Gresham, Oregon-headquartered Scenic Fruit Company is recalling frozen organic strawberries in the United States distributed through Costco, Aldi, KeHE, Vital Choice Seafood and PCC Community Markets, as well as packs of frozen organic tropical blend sold sold by Trader Joe's due to an outbreak of Hepatitis A illnesses associated with the fruit imported from Mexico.
A complete list and additional details about the products subject to recall, which are sold under a number of brand names including Simply Nature, Vital Choice, Kirkland and Trader Joe's, is available by contacting the packer via e-mail at customer.service@scenicfruit.com.
Consumers are urged not to consumed the products, and return packs to their local store for a refund. Meanwhile, Scenic Fruit Company has ceased production and distribution of the items as the US Food and Drug Administration (FDA) and the packer continue their investigation as to what caused the problem.
All inventories of the affected lot are being or have already been removed from sale. Consumers who have purchased the products are urged to destroy or return it to the place of purchase for a full refund.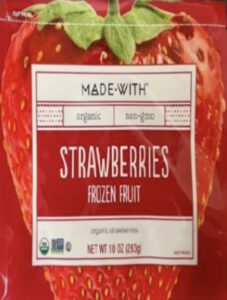 Hepatitis A is a contagious liver disease that results from exposure to the Hepatitis A virus, including from food. It can range from a mild illness lasting a few weeks to a serious illness lasting several months. In rare cases, particularly among consumers who have certain pre-existing medical issues or are immune compromised, the infection can progress to liver failure.
Illness typically occurs within 15 to 50 days of exposure and includes fatigue, abdominal pain, jaundice, abnormal liver tests, dark urine and pale stool. Hepatitis A vaccination can prevent illness if given within two weeks of exposure to a contaminated food. Persons who may have consumed affected product should consult with their health care professional or local health department to determine if a vaccination is appropriate, while those with symptoms of Hepatitis A should immediately seek medical attention.