Already by the second day of the show, the managing director of Hulshout, Belgium-headquartered Herbafrost was pleased to report that its presence had yielded productive results. "The Anuga always affords a great opportunity to maintain a good relationship with our existing customers, but it also serves as a platform to attract new clientele and explore new markets," said Peter van Asten.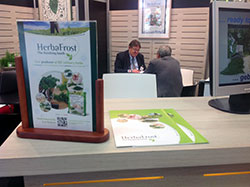 Peter van Asten (left), managing director of Herbafrost, consults with a customer at the company's Anuga stand.His company used the occasion to introduce a range of frozen herbs in portions (pellets). Positioned as ideal for the preparation of soups and sauces, herb varieties currently available in this form are sorrel, chervil, parsley, coriander and watercress.
Mr. Van Asten, prior to the Cologne fair, told FrozenFoodsBiz.com that the pellets should especially appeal to producers of value-added products who are not able to maximize the use of IQF herbs at times when their factories are processing at temperature ranges in which the herbs defrost and stick on production line belts.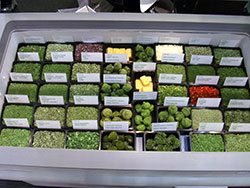 Herbafrost's range of herbs now available in pellet form are seen in the fourth and fifth rows of the freezer case."We have found a solution for this problem that is being applied to a wide variety of herbs," he said. "It can be done with mixes as well. If a customer needs basil with dried tomatoes that won't stick during production runs, we can provide it."
Herbafrost, which describes its product line as "the finishing touch" needed by industrial processors to further flavor their fare, is stepping up business with retail supermarkets as well – and not just in Europe. "We are getting ready to ship a container of mixed herbs to a major chain in Japan," the managing director informed FrozenFoodsBiz.com.