Italian cuisine has long been popular among consumers in the United Kingdom, but pizza in particular is a big performer in the freezer aisles of retail stores. Frozen pizzas tend to be popular as they offer great value for money and are quick and easy for individuals or busy families to prepare and enjoy.
The frozen pizza sector is reportedly worth £469 million in Britain, but that's down -3% from the high point achieved in 2020. However, penetration has remained higher than pre-coronavirus pandemic levels at 69.2%, meaning 19.5 million households in the UK buy frozen pizza (IRI 52 weeks ending 1/1/22).
According to Dr. Oetker, which produces frozen pizzas for the retail sector under its Chicago Town, Ristorante and The Good Baker labels, the takeaway-style sector has been one of the strongest performers at +1.8 % year on year and +19% versus 2019.  
The Tesco supermarket chain has benefitted from more shoppers buying pizza more often in its large stores and online, which is attributed to Covid-19 restaurant closures. Its most popular pizzas are own label Tesco Pepperoni and Margherita varieties, which came out top through blind testing and have had an extremely high repeat rate with customers. The retailer also launched a private label Big Chicken and Bacon Pizza which was well received.
Value has been a key driver for consumer food choices throughout the pandemic period, but increasing numbers of consumers are now recognizing the wider benefits of frozen food, which includes reducing food waste. People are taking more care with meal planning to actively reduce their food waste, and frozen food enables them to effectively do this.
"While value, food waste and meal planning are key benefits, the real challenge for frozen is to break long ingrained perceptions around freshness, quality and taste," said Paula Wyatt, head of marketing – pizza at Dr. Oetker. "Pizzas in the Chicago Town Takeaway range, which is one of the few brands experiencing growth on top of the pandemic year, are really focussing on how being frozen delivers quality that can't be replicated in fresh."   
In Demand
According to Tesco, big brands such as Chicago Town and Goodfella's are important to customers. Well known branded products are viewed as a special treat by shoppers, particularly when they offer great value with their Clubcard. 
The supermarket giant reports that its premium brands are also performing well, with the likes of Crosta & Mollica having a great first year. It was Tesco's first NPD in truly premium pizzas, and quickly achieved positive online reviews. 
Chicago Town is the leading brand in frozen pizza and is driving growth with its stuffed crust range, advancing +4% year on year.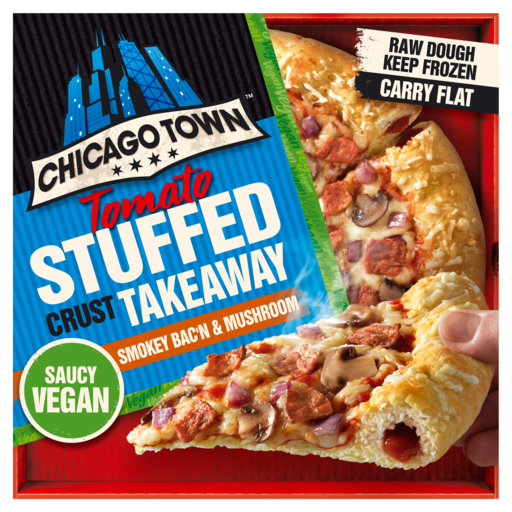 "The range has been winning fans with its dough base and stuffed crust that consumers cook for the first time in their home oven," said Wyatt. "Keeping the dough uniquely frozen in this way allows for it to bake and rise in the home oven, giving a taste that can rival the high street. Growth is expected to continue as families look for great value and brands they trust to create their pizza night."  
Recently the brand launched an online campaign with "Moneymum" Gemma Bird showing that families could save an average over £100 by switching from the usual high street takeaway, and with one in 10 saving as much as £150.
Meatless Movement
Demand for plant-based options continue to soar, and frozen pizza is getting a nice slice of the action. According to Kantar, vegan pizza has experienced double digit growth at +25% versus a year ago, driving significant category growth.  
Virtually all UK retail supermarkets now stock frozen vegan pizzas from brands including Dr. Oetker, Chicago Town, Goodfellas and Ristorante, with Asda selling its own label of plant based pizza featuring roasted vegetables and houmous. 
Consumers are looking for something unique, along with added value, and stuffed crusts meet such demand. Indeed, the Stuffed Crust vegan range is now worth over £4 million in the UK and growing +20% year on year. 
Dr. Oetker has concentrated on delivering its best-selling pizzas in plant-based varieties – Chicago Town Stuffed Crust, Chicago Town Individual Microwavable Deep Dish and, most recently, Ristorante Margherita Pomodori, which has added incremental value to the vegan pizza category. Dr. Oetker's vegan stuffed crust range, for example, includes Sticky BBQ Jackfruit and Smokey Bac'n and Mushroom.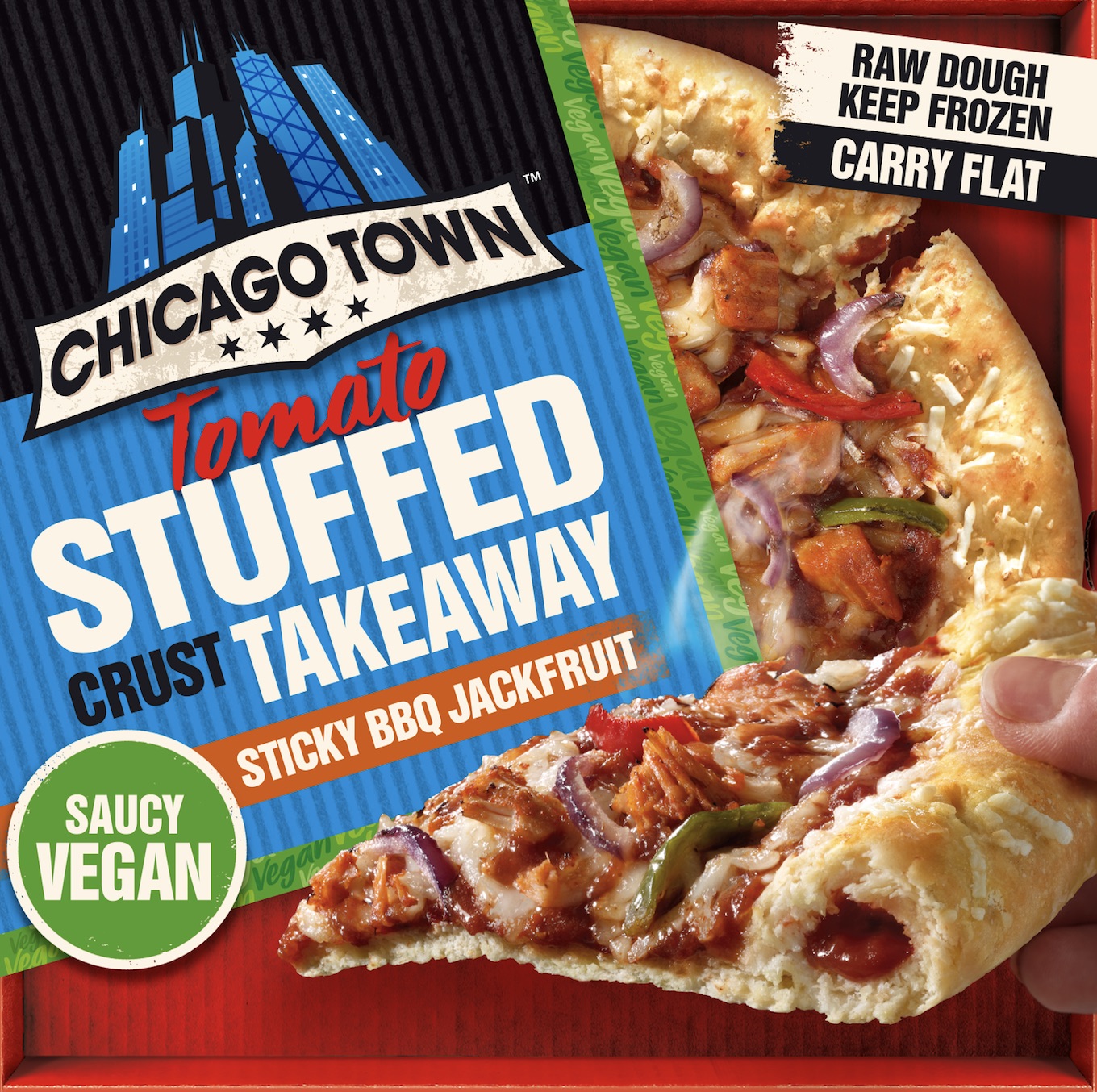 "The team worked hard to deliver that unique Ristorante flavor, with its signature thin and crispy crust in a plant-based format," said Wyatt. "Topped with both cherry tomatoes and marinated tomatoes, the brand's signature pesto sauce and plant-based cheese, over half the value of the range is coming from new shoppers or those adding it incrementally to their pizza shop."
Guilty Pleasures
The growth in the frozen pizza sector can be attributed in part to new product development, as 7% of the category's value comes from products that have been on the market for under two years. 
"We know that discovering new products is key for category perceptions and engaging shoppers," said Wyatt. "Categories with a higher percentage of branded products generally see higher innovation rates as the brands take the lead in research and development together with investment to raise awareness."  
Dr. Oetker has identified permissibility as one its key growth pillars for frozen pizza.  Extensive research and development led to the launch of its new brand, The Good Baker, bringing added health to the category.  
"It is fully vegetarian or vegan with a range of stone baked crusts with sourdough and multigrain," said Wyatt. "Fully HFSS compliant, with fully recyclable packaging, the range is designed with great taste as the first and main criteria. It is targeting younger shoppers who are historically lighter frozen pizza buyers – and who hold ingrained negative category perceptions around taste, quality and sustainability. At a time when FMCG is facing a fundamental change with HFSS regulations, our goal is to offer choice and reassurance to all consumers to ensure our category remains relevant for all shoppers."
As an already popular segment, rising demand for frozen pizza seems set to continue in the retail sector thanks to new product development and value. 
– Reported by Sarah Welsh