Safer Plate is now Liam's. Founded in 2019, the company originally focused on meal kits, but soon realized a greater need based on feedback from customers for a quick, more versatile option. Liam's offers four frozen meals, all free of the top allergens and currently available in over 100 grocery stores across the USA.
The Minneapolis, Minnesota-based company was born out of necessity. Liam's co-founder and chief executive officer, Angie Nelson, is mom to a son, Liam, who lives with a number of food allergies. She quickly learned how difficult it can be to find options fit for the whole family.
More than a Meal
"Our commitment to allergen friendly meals stays the same, even though our delivery and name has changed," said Nelson. "The shift to frozen meals was made based on feedback from our loyal customers. These meals add a layer of flexibility for our food allergen fams – for dinner time, on-the-go, or wherever you've got a microwave."
Liam's lineup currently consists of Tangy Pulled Pork with barbecue sauce and sweet corn (315 grams), Beef & Pea Pods with rice (295 grams), Chicken Al Fredo Rotini with broccoli (275 grams) and Cheezy Rotini with a broccoli side (273 grams). More are on the way.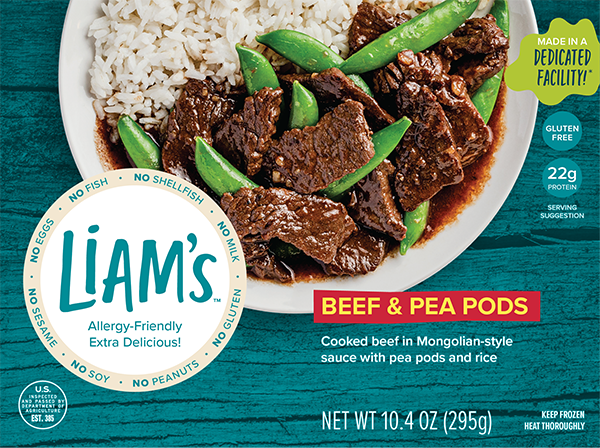 All offerings are free of the most common food allergens, and produced in a dedicated kitchen, so families don't have to worry about cross-contamination, reading labels, contacting manufacturers, or second-guessing.
Liam's has partnered with Chef Gilbert Junge, formerly head of Mayo Clinic's specialty care meal program. Together, the team works to carefully create and test each recipe, ensuring every option is safe for those with food allergies and intolerances.
"While we're creating meals without the top allergens, we utilize unique and fresh ingredients to ensure that our meals taste like they are not 'without" anything,' said Junge. "With our shift to frozen meals, you can continue to taste the difference of quality ingredients."
All of Liam's frozen meals are free of peanuts, tree nuts, milk, eggs, soy, wheat, gluten, seafood, shellfish and sesame. Some meals may contain coconut aminos, coconut oil, and/or coconut milk.