Established as a cooperative for processing agricultural crops grown in the Marmara and nearby Aegean regions of Turkey, Martaş is a major player in the country's frozen food industry. The company is upgrading its facilities while continuing production at two processing plants in Bursa and Mustafakemalpaşa. With the installation of a Tomra belt sorter at the Mustafakemalpaşa facility, increased exports of high quality products to major markets are planned.
Martaş has processing capacity of 40,000 tons of fruit and vegetables, and cold storage space for 20,000 tons. While offering a wide range of frozen products, the primary focus is on five fruit and five vegetable varieties: spinach, peas, peppers, broccoli, corn, oranges, cherries, sour cherries, figs and apricots. The company has attained a significant position in the pepper export sector over the years. 
In explaining the decision making process behind its purchase of Tomra equipment, General Manager Ayhan Gürbay (pictured above) stated: "We determined the product types that required investment in technology for the export markets, as our sales abroad continue to grow every year. Currently, we export 60 percent of our production. We aim for perfection in product quality by utilizing our Tomra machine before the individual quick freezing (IQF) process begins."
Priority is Food Safety
Martaş offers products in packages containing various weights ranging from 1kg to 20kg. Approximately 95% of all output goes to the hospitality sector, with retail channels taking about 5%.  Exports have historically been largely to customers in the United Kingdom, Italy, France, Germany, the Netherlands, Belgium, Romania and Bulgaria.
"Recently, target markets have been extended to include countries in the Far East," said Gürbay. "We are planning to reach production volume of approximately 20,000 tons in 2022, and aim to achieve a continuous growth rate of 20-25 percent per annum. Our absolute priority is food safety and quality, while increasing capacity. The main strength of Tomra's belt sorter is its sorting capability, which is not only based on color, but also on important criteria such as product density and humidity. Installing the machine before the IQF process gives us control over food safety and quality from the start."
The general manager added: "If you performed the control after IQF, the risk of products with defects would increase. The products that would be sorted later can be included in the IQF process. The earlier you perform the control and the more meticulous it is, the more you will increase the product's quality. Additionally, since defective products do not enter the freezing process, cost savings are achieved while the yield of the process line is enhanced."
Emphasizing that every product may have different requirements, Gürbay explained that in pea processing careful attention must be paid to snails and insect species that are sometimes naturally present in the harvests. With spinach, plants with similar leaves need to be sorted out as well as insects that may come from the field. And it could be difficult to sort snails by using only optical sorting machines with cameras at the rear of the IQF. The Tomra camera and laser system in the Martaş line offers effective sorting performance for foreign materials including snails and shells.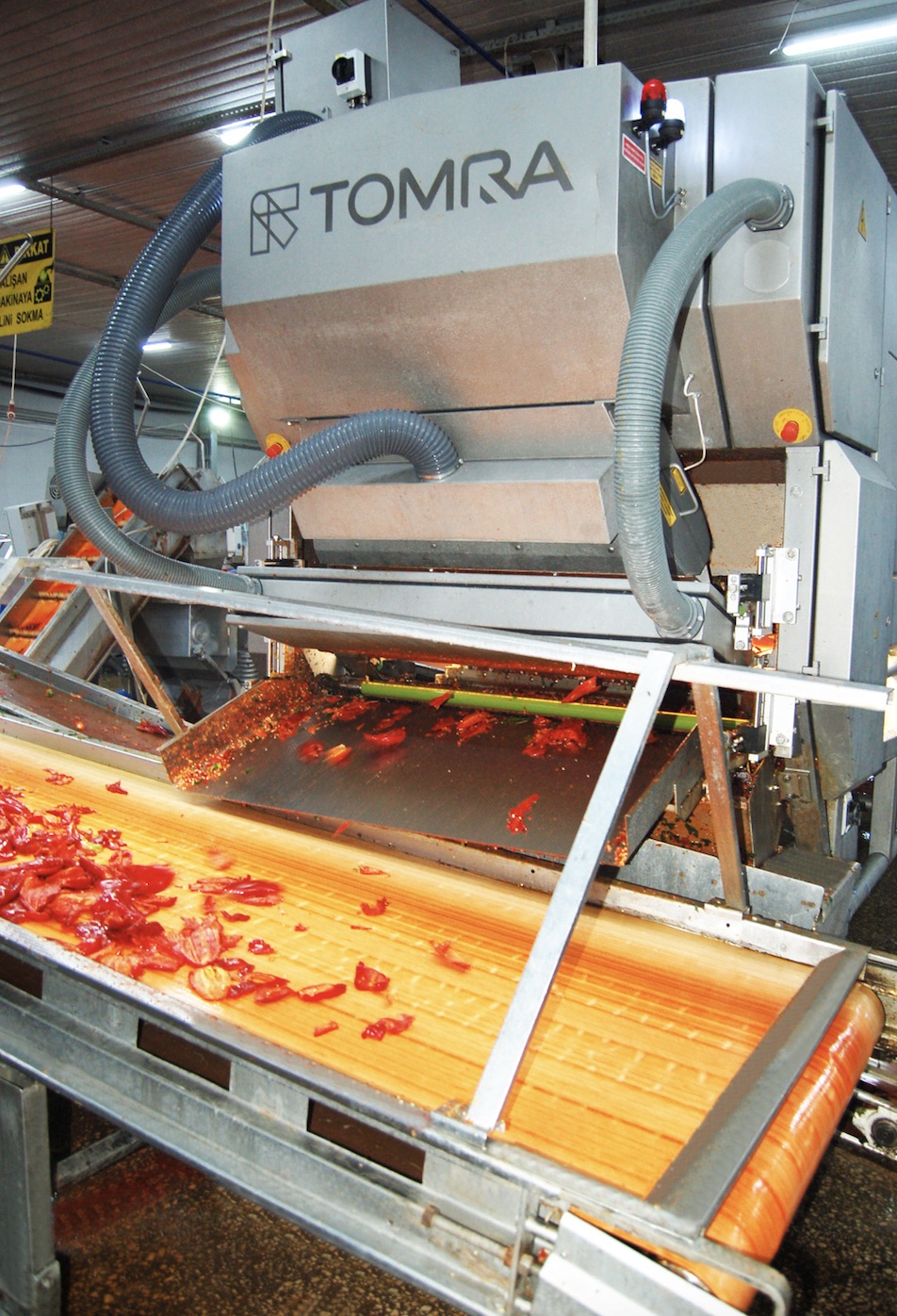 The process for sorting peppers is different.
"Thanks to its cameras, the Tomra machine can sort color and tissue defects in addition to product-related defects such as rot in peppers," said Gürbay. "It can also effectively sort out the core, stem and other foreign materials in peppers with its laser system. This means great ease and high yield in our production process."
Gürbay highlighted the importance of being able to simultaneously process different products during a specific season: "Since we use domestic crops, we may require processing different and bulky products in a short timeframe. This means that organizing our processing lines well is important. Optical sorting solutions like Tomra's enable us to increase our yield, as we can process different products in the same machine. In the summer, a great variety of products can arrive at the facility and in two weeks, different products may be processed on the same line."
About Tomra
Tomra Food, a unit of the Asker, Norway-headquartered Tomra Systems ASA, designs and manufactures sensor-based sorting machines and integrated post-harvest solutions for the food industry using most advanced grading, sorting, peeling and analytical technology. Over 8,000 units are are currently in service at the facilities of food growers, packers, and processors worldwide for fruits, nuts, vegetables, fruits, potato products, meat, seafood, grains and seeds.