Value-added potato producers and marketers McCain Foods and Lamb Weston/Meijer are among a growing number of frozen food companies, foodservice operators and beverage manufacturers that have halted business activities in Russia following that nation's military invasion of Ukraine. The hostilities have included air bombardment of cities that has resulted in an estimated 3 million refugees fleeing war-torn zones to safety in Poland, Romania, Moldova, Slovakia and other countries in Europe and beyond.
On March 10 each company issued statements regarding their cessation of operations. Comments from Lamb Weston/Meijer follow in the two paragraphs immediately below:
"We condemn the brutal aggression and violence in Ukraine and will not stand by. Last week, we already halted the export of our products to and from Russia and stopped the construction of and investments in new production lines in the country. We are now evaluating further next steps regarding our operating business in Russia, which exclusively sources from and supplies to the local market.
"Our number one priority is our people and we want and need to handle our response carefully, thus considering the personal situation of our colleagues and their families in Russia, as well as those of our farmers and other local suppliers."
Remarks released from McCain headquarters in Canada were as follows:
"The Russian invasion of Ukraine has been deeply concerning to all of us at McCain Foods. Our thoughts continue to be with those affected by this crisis and we have done everything in our power to put the health and safety of our employees at the center of our response.
On February 24, we stopped construction at our Russian production facility in the Tula Oblast region. We have now made the decision to discontinue the project entirely. In addition, we are also suspending all shipments of our products into the Russian market.
"We are always guided in these decisions by the ethics and perspective of being a family-owned business from New Brunswick, Canada. As the global market leader in prepared french fries and specialty potato products, McCain Foods takes our leadership role seriously across the 160 countries that we operate in."
In April of 2021, McCain announced plans to invest €150 million to build a potato processing plant in Russia "after 20 years of importing frozen products from our European plants for sale in Russia and neighboring countries." It was expected to create 200 jobs.
In aiding the global relief efforts underway, McCain recently donated $200,000 to the Red Cross Ukraine Humanitarian Crisis Appeal. Readers wishing to make personal contributions to the cause may do so by visiting donate.redcross.ca
Viciunai Stops Operations in Russia
Beyond the potato sector, the Kaunas, Lithuania-headquartered Viciunai Group has suspended operations in Russia as war rages in Ukraine. The company is a major producer of frozen food products including surimi and other fish and seafood items. Its extensive line exceeds 1,000 items that are sold in over 60 markets.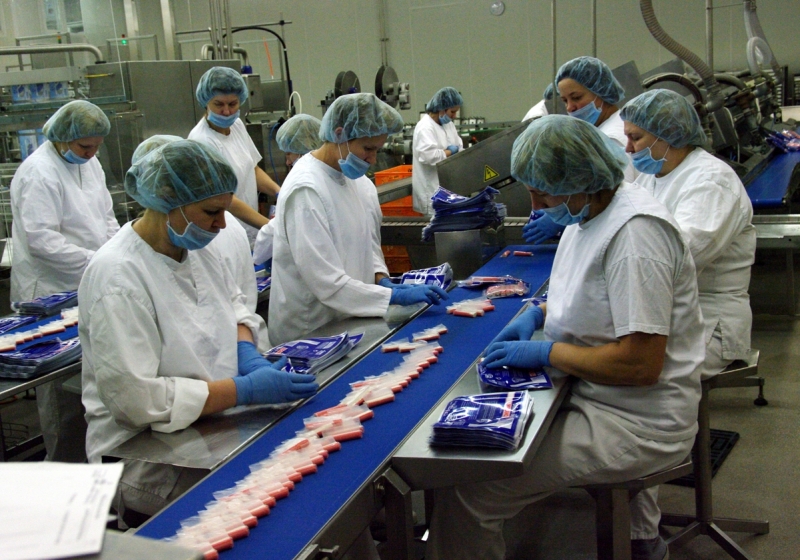 Employing more than 9,000 people, the Viciunai Group consists of 80 companies in 23 countries. It operates 10 processing plants in Lithuania, Estonia and Spain, and has Ukraine branches in Kyiv, Kharkiv, Dnepropetrovsk, Odessa and Ivano-Frankivsk.
Among other food companies that have joined a growing list of multinational corporations halting business activities in Russia are McDonald's Restaurants, Burger King, KFC, Starbucks, Coca-Cola, PepsiCo and McCormick & Company.
Additionally, McCormick operation in Ukraine have been paused in order to focus on the safety of employees and their families. To aid in humanitarian efforts, the Company is also supporting the Polish Center for International Aid (PCPM) and the World Central Kitchen.
Meanwhile, according to CNN, a frozen food warehouse in the village of Kvitneve, northeast of Kyiv, was been among non-military targets recently hit by Russian artillery rounds. The photo below, distributed by the Ukraine Interior Ministry, was reportedly taken as the warehouse burned following shelling early last Friday morning.