Birds Eye frozen food products in the United Kingdom are now being distributed in revamped packaging sporting a subtly redesigned logo described as "paired back with a clean and advanced style" that stands out better both in freezer cabinets and online in e-commerce environments.
"Our new packaging completes the update to our master brand and reflects our popular 'The Food of Life' campaign. The refreshed packaging will help our products stand out on the shelves as well as delivering in increasingly important digital environments," said Cheryl Calverley, Birds Eye's general marketing manager.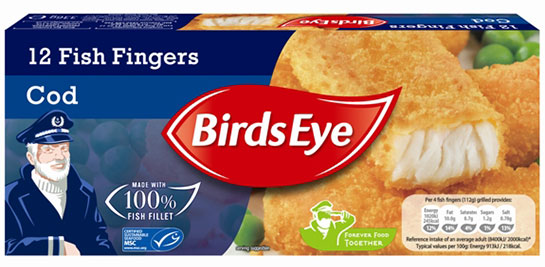 The latest image tweaking is part of a £60 million brand relaunch throughout Europe by Birds Eye's parent company, the Iglo Group. The logo is now prominently positioned in the center of product packaging. The redesign, created by JKR, aims to "bring greater warmth and personality" to the product line, which ranges from fish fingers and vegetables to value-added potato side dishes and complete ready meal offerings.
The Iglo Group, which is regarded as Europe's largest branded frozen food marketer employs 2,500 persons (approximately 1,800 in Britain) and runs operations in 11 countries. Owned by the Permira private equity firm, the company generated sales of £1.3 billion last year.