Nomad Foods reported €599 million in sales during the second quarter that ended on June 30, up 11.4% over the same period the year before. Organic growth for the producer of Birds Eye, Iglo, Findus, Aunt Bessie's, Goodfella's and other retail brands amounted to 12.3%.
Reported Profit for Q2 was €63 million. Adjusted EBITDA rose 21% to €119 million, while adjusted EPS increased 26% to €0.34.
"We experienced continued robust demand throughout the second quarter, even as restrictions [government imposed lockdowns] were relaxed across Europe beginning in early May," said CEO Stéfan Descheemaeker. "Frozen food has proven to be one of the most durable consumer categories throughout the Covid-19 pandemic, a testament to its role in offering families quick and nutritious meal solutions at home. These are values which we believe will transcend beyond this acute period and appeal to a broader set of consumers in a post-Covid-19 world."
Here are results for the first six months of 2020 compared to the first half of 2019:
Revenue increased 10.9% to €1,282 million. Organic revenue growth of 9.8% was comprised of 7.9% growth in volume/mix and 1.9% increase in price.
• Gross profit rose 8% to €380 million. Gross margin declined 70 basis points to 29.7%, as pricing, promotional efficiencies and mix were more than offset by cost of goods inflation.
• Adjusted operating expenses increased 7% to €176 million as double-digit growth in Indirects was offset by a decline in Advertising & Promotion.
• Adjusted EBITDA rose 8% to €239 million and adjusted profit after tax advanced 10% to €135 million due to the aforementioned factors.
• Adjusted EPS increased 2% to €0.67 and reported EPS climbed 49% to €0.55.
2020 Guidance
The company is raising 2020 guidance, which now includes approximately €10 million of incremental strategic investments to fuel brand building activity, drive targeted retention of new consumers, and further accelerate the growth of it plant protein-based range of Green Cuisine products. Adjusted EBITDA for 2020 is now forecast to be in excess of €460 million. Adjusted EPS, which does not reflect the potential outcome of the proposed tender offer, is now expected to be in excess of €1.27 EPS. Full year guidance now assumes organic revenue growth at a high-single digit percentage range versus the prior expectation of mid-single digit organic revenue growth.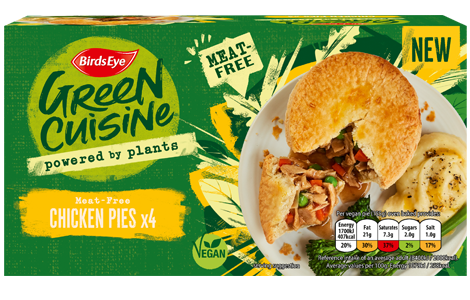 Noam Gottesman, the company's co-chairman and founder, commented: "We are pleased with our strong first half 2020 performance and now expect that second half organic revenue growth will remain elevated. This leads us to raise our guidance while also enabling us to accelerate strategic investments to convert the unprecedented adoption of frozen food and trial of our brands into permanent consumption behavior."    
The tender offer, announced on August 6, is described as a "modified Dutch auction" to purchase with cash up to $500 million of Nomad Foods ordinary shares, at a range expected to be between $23.00 and $25.50 per share as soon as reasonably practicable. This would represent 11% of the company's market capitalization (based on the stock's closing price of $23.34 on August 5).
Meanwhile, Nomad Foods announced that it is sharpening its mergers and acquisitions focus behind a targeted pipeline of European frozen food acquisitions.
"This refined strategic approach creates an opportunity to drive long-term shareholder value through the accretive return of excess cash while retaining financial flexibility to pursue our growth ambitions," said Co-Chairman and Founder Sir Martin E. Franklin.