Lancaster, Pennsylvania-based Frozen Food Development Ltd. is voluntarily recalling specific lots of Lidl branded 12-ounce (340g) packages of Steamable Frozen Chopped Spinach in parts of the United States. The product, sourced from Turkey, has the potential to be contaminated with Listeria monocytogenes, an organism which can cause serious and sometimes fatal infections in young children, frail or elderly people, and others with weakened immune systems. 
SKUs being called back were shipped to Lidl retail stores in Georgia, South Carolina, North Carolina, Virginia, Maryland, Delaware, New York, New Jersey and Pennsylvania in poly bags identified by with lot numbers R17742 or R17963 and a best by date of 09/10/23.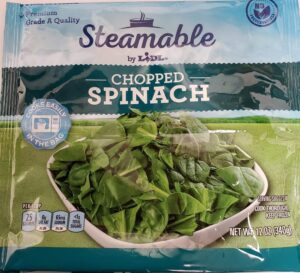 No illnesses have been reported to date in connection with this problem. Meanwhile, production of the product has been suspended while the US Food and Drug Administration (FDA) and Frozen Food Development continue to investigate the source of the potential contamination.
Shoppers who bought 12-ounce packages of Lidl Frozen Chopped Spinach are urged to return them to the place of purchase for a full refund. Consumers with questions should call the Lidl Customer Care at 1-844-747-5435, Monday thru Saturday 8 AM– 8 PM Eastern Standard time.