V&V Supremo Foods has introduced pre-cooked frozen chorizo nugget and crumble ingredients, aimed especially at foodservice operators in the USA. Its Mexican-style product, made from lean pork and high-quality spices with no nitrites, fillers or MSG, can serve as components in many recipes ranging from pizza toppings to ready meal components.
The Chicago, Illinois-based company is promoting the products as "the absolute solution for cafés, commissaries, diners, pizzerias and any foodservice operators looking to create delicious authentic or fusion dishes with minimal prep time, no raw product handling, and 100% yield." They can go directly from freezer to application, or be "lag-thawed" in a cooler before using.
V&V Supremo Mexican-Style Pre-cooked frozen chorizo is advertised as "bright and robust in both appearance and flavor, displaying an optimal balance of heat and complex spices to create a desired 'pop' on the palates and plates of consumers.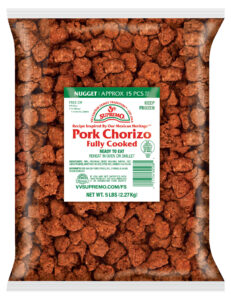 These items are practically indistinguishable from fresh-cooked (raw) chorizo, according to Gilberto Villaseñor II, the company's chief visionary officer, who added: "If you didn't know otherwise, you'd never guess it was a pre-cooked frozen chorizo."
V&V Supremo is an award-winning producer of authentic Mexican cheeses, creams and chorizo, and maker of Chihuahua brand quesadilla cheese. Serving both retail and catering industries, the company was founded in 1964 by Mexican natives Gilberto Villaseñor, Sr. and Ignacio Villaseñor. It is now the USA's oldest family-owned and operated Hispanic cheese company.