Marlow Foods, parent company of Quorn meat substitute products, plans to make the super protein in Quorn available to other food and beverage manufacturers. Led by a new division, Marlow Ingredients, Marlow mycoprotein will be distributed firstly in Europe and then internationally.
"We have been trailblazers in meat free since we sold our first Quorn product in 1985," said Stokesley, North Yorkshire, England-based Marco Bertacca, chief executive officer of Marlow Foods. "We see it as our responsibility to provide healthy food for people, and
recognize the urgent need for humanity to eat more sustainably."
Marlow Foods' journey began in the 1960s based on one man's vision of the vuture. Lord Rank led what became over 20 years of research into the creation of Marlow mycoprotein.
"Now, backed by decades of research, we know it is one of the best sources of protein there is," said Marco. "Marlow mycoprotein is naturally high in protein."
It provides all nine essential amino acids, is low in saturated fat and contains several vitamins and minerals. It is also high in fiber, requires 90% less land and water to produce and reportedly produces 98% less carbon emissions than equivalent beef products.
A recent study from Northumbria University has also found that eating mycoprotein increases healthy gut bacteria and leads to a significant reduction in intestinal genotoxins, which can cause bowel cancer.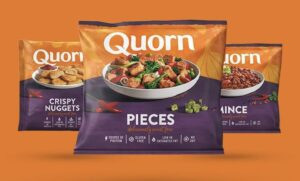 Mycoprotein, the core ingredient in over 100 Quorn branded products, is also powering the success of Quorn with quick service restaurant and other foodservice partners including KFC across Europe, Greggs in the United Kingdom and Quick restaurants in Belgium.
"There's huge potential for our mycoprotein," stated Marco. "Alongside the delicious meat like texture and incredible nutritional and sustainable benefits it's famous for, there's exciting research happening into its ability to create more sustainable versions of other applications, such as dairy alternatives. Marlow Ingredients is initially focussed on building partnerships with food manufacturers, but the potential for the future is very exciting."