Stamford, Connecticut-based American Halal Company, Inc. has introduced a new line of frozen meals and tacos inspired by traditional Korean cuisine. Sold under the Saffron Road retail brand, the range features entrees and tacos.
"We understand the desire for authentic world cuisine that captures cultural tastes and encourages culinary exploration," said Adnan Durrani, the company's founder and ceo. "Our new Korean products will excite taste buds and fulfill Americans' appetite for high-quality food they can trust and feel good about."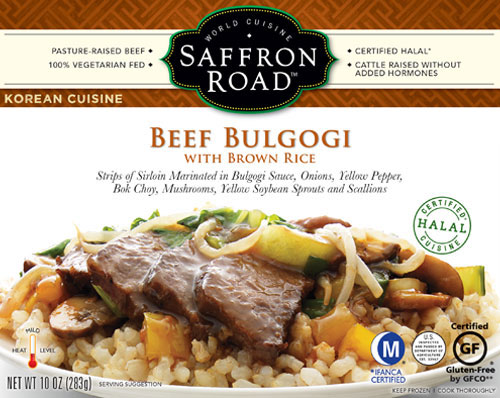 The frozen meals, including Beef Bulgogi, Bibimbop with Beef, Gochujang Chicken and Bibimbop with Tofu, are influenced by traditional Korean recipes. Two dishes use pasture-raised beef with no artificial hormones. The third dish features vegetarian-fed and humanely-raised chicken, and the fourth — a vegan option — uses organic tofu. All are distributed in 283-gram (10 oz.) retail packs.
Other key flavors include a Gochujang sauce, which adds a blend of sweet, sour and spice to each bite, and a Bulgogi sauce, which combines a sweet, smoky taste with the punch of ginger and garlic. The line also incorporates a fruity, flavorful red pepper sourced from Korea.
"Our Korean-style products forge together diverse international flavors, spices and sauces from different corners of the globe to make something truly memorable and uniquely American," said Jack Acree, the company's executive vice president.
The frozen tacos, including a Korean-style chicken taco and a Korean tofu taco, pack vegetables and a homemade slaw into an organic corn tortilla. Both come in a taco truck-shaped package revealing their street food roots.
The entrees and tacos are halal-certified and gluten-free. Consumers can find them in the frozen aisle exclusively at Whole Foods Market stores nationwide for the suggested retail price of $5.99 and $3.99, respectively.
"Whole Foods Market has been working with Saffron Road for a while to develop great tasting products that not only meet halal dietary needs, but are also tasty enough for everyone to enjoy," said Dwight Richmond, the supermarket chain's global grocery purchasing coordinator. "We are always looking to offer our shoppers fresh flavors and new products they simply can't find anywhere else, and Saffron Roads' frozen tacos and entrees certainly fit the bill."
In addition to the newly launched Korean cuisine line, Saffron Road's range of frozen ethnic entrees runs the gamut from Moroccan Lamb Stew and Chicken Tikka Masala to Thai Basil Chili Tofu, Manchurian Dumplings and Three Cheese Lasagna.