Finally, the long awaited SIAL Paris exhibition got back into gear for a five-day run from October 15-19. It was the first time the world's leading food producers, buyers and sellers returned to the French capital en masse to attend the biennial trade show in four years, as the 2020 edition was cancelled due to the coronavirus pandemic.
While official figures were not available at the time of this writing, upwards of 300,000 visitors are expected to have checked out the fair when all is said and done. And as a "bonus," commuters to the Paris Nord Villepinte showground, aboard extremely packed RER B line trains, got to meet many fellow travelers perhaps a bit too up front and personal for comfort, both before and after show time.
Fuel shortages caused by industrial strikes at oil refineries severely impacted those attempting to get to the fairgrounds by automobile, as many petrol stations were out of gasoline. Those not tapped out had long queues of motorists desperate to fill up as demand far exceeded supply. Compounding travel chaos on October 18, a railway strike greatly disrupted schedules in much of France.
But for those SIAL exhibitors and visitors who soldiered on and made their way to the Paris Nord Villepinte, Parc des Expositions, the challenging trip was well worth the effort.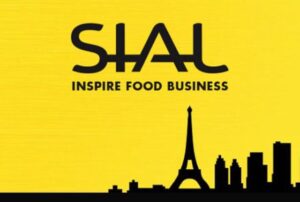 According to the show organizer, approximately 7,000 exhibitors from 126 countries displayed their product lines within the spacious premises. Hall 5-A showcased a cornucopia of frozen food innovation – from meat and potatoes to seafood sauces, vegetables, herbs, pizza, ready meals, plant-based products, desserts and plenty more.
The culinary crew slicing Beef Iskender Donner, Chicken and Turkey Kebab at the Damak Food stand had their hands full serving hungry show-goers, especially around lunch time. The Grzedy, Poland-based company offers frozen retail packs as well as vertical splits for foodservice operators.
The range is exported to more than 40 countries, with France ranking as the largest buyer. Other important markets are Saudi Arabia, the UAE and UK. The United States and Canada are now being targeted for expansion.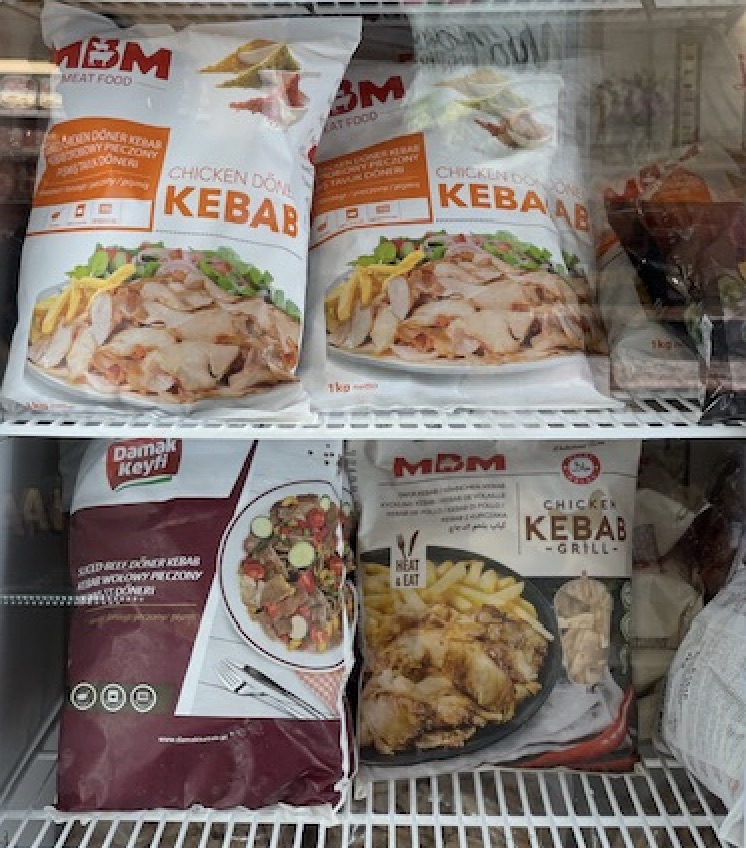 Finger Foods Point the Way
The Frostkrone Food Group showcased a raft of tempting frozen snacks and finger foods. Among the Reitberg, Germany-headquartered company's highly convenient products are Piz'wich Pizza Pocket Chili Con Carne, Salami Jalapeno, Chicken Red Thai Curry and Sweet Sour Pork. Many other offerings, available branded and under private labels, include Vegan Fish Goujons, Spicy Vegan Chicken Bites, Beetroot Tots, Gouda Rings, Mozzarella Sticks, Halloumi Fries, Falafel Balls and Mini Corndogs.
In business since 1997, Frostkrone has production facilities in France, the United Kingdom and the USA in addition to Germany.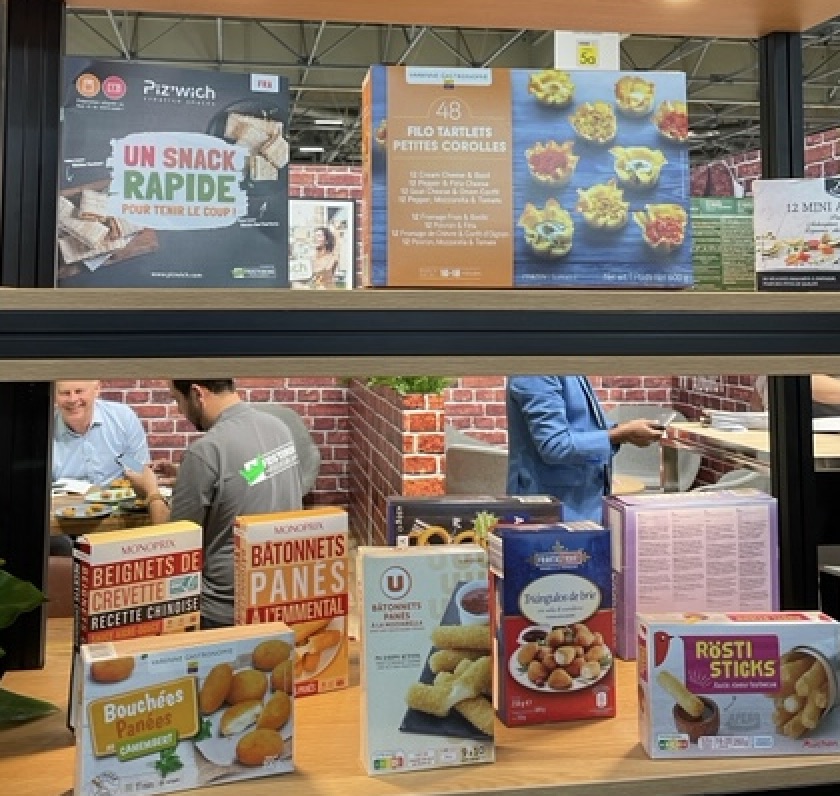 Pizza and Pasta Power Up
Italian companies are SIAL's biggest exhibitors in numerical terms, ahead of France, Belgium, Spain and Turkey in the Top Five rankings this year. Frozen pizza and pasta producers such as Svila Srl and Surgital Spa shine among the nation's star suppliers to foodservice and retail buyers in Europe and beyond.
Since 1974 Svila of Visso has produced pizza the old fashioned way using flour, spring water, oil and yeast as foundational ingredients. The popular Mama Mia line includes a myriad of toppings ranging from Alta Margherita and Sottile Prosciutto e Funghi to Salami and Vegetarian.
Its Vassana assortment features Bufala e Stracciatella di Burrata, 4 Stagioni, Gorgonzola & Noci, and Tartufo. Pizza alla Pala, while the Pizza all Pala label boasts flavors including Radicchio e Speck and Salsiccia e Zucchine.
The extensive line of Emilia-Romagna headquartered Surgital runs the gamut from Vegetable, Pea and Lentil Linguine to Spaghetti Classici al Pomodoro, Lasagne alle Verdure, Spaghetti all Carbonara and Tagliatelle al Ragu Bolognese.
Surgital also packs traditional sauces such as Salsa al Tartufo under the Sugosi label, in addition to Crema di Topinambur, Salsa Agli Scampi, Salsa Allo Zafferano and Ragu de Carni Bianche.
More news about SIAL Paris 2022 will be published after the show concludes, including coverage of healthy trends in the growing frozen vegetable sector.
– Reported by John Saulnier