As last year drew to a close, Simek's, the St. Paul Park, Minnesota-based women-owned food products producer specializing in frozen lasagnas and fully cooked premium frozen meatballs, reported that it donated 1.2 million meals in 2021 year through its collaboration with Feeding America. 
For every product sold, the company donates a meal to the community where the product was purchased to a local Feeding America food bank. Since the partnership's launch, 5.6 million total meals donated.
"We are proud to participate in corporate social responsibility programs that reflect our brand's commitment to delivering both better-for-you food as well as a better world for all," said Lindsey Hickey, Simek's president (pictured below). "The problem of hunger can only be solved if we work together, and our customers have enthusiastically embraced our program with Feeding America."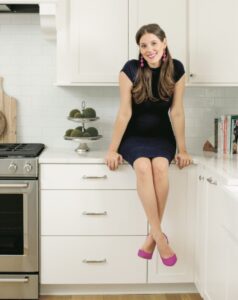 On the packaging front, Simek's has partnered with RePurpose Global to remove from the environment the equivalent amount of plastic that is used in packing and shipping of it products. So every Simek's package has a Net Zero Plastic Footprint. More than 17,509 pounds have been removed thus far.
All of Simek's entrée cartons are sustainably sourced by certified organizations that have agreed to make standards, conservation, community and education a top priority in the forestry industry.
Meanwhile, during the course of 2021 the company refreshed its brand identity by featuring a new bright and modern design across its packaging portfolio. The clean look complement cleaner ingredients and products do not contain preservatives, artificial colors or flavors.
In the past 52 weeks the number of retail stores carrying at least one SKU (stock keeping unit) from Simek's has increased by 80%.