The J.M. Smucker Co. has upgraded its Uncrustables kids' lunchboxes and snack sacks with new Uncured Pepperoni Bites that are now available in the frozen food department of supermarkets across the USA. Uncured Pepperoni Roll-Ups, already listed at Kroger and Target stores, and will roll out nationwide in October.
Each product is baked with bread and flatbread made from scratch.
Uncured Pepperoni Bites feature bread bites made with marinara sauce, natural uncured pepperoni and mozzarella cheese. Each microwaveable pouch of two bites takes less than 60 seconds to heat and eat.
The Uncured Pepperoni Roll-Ups are described as flavorful flatbread roll-ups are made with natural uncured pepperoni and 100% provolone and Neufchâtel cheeses with seasoning. With minimal preparation required, they are offered as "a great on-the-go snack option – just thaw and eat."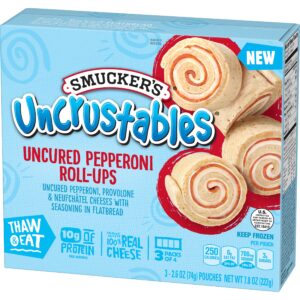 "Snack time can be stressful – especially if you have a child that's a picky eater. We believe that every kid deserves a tasty treat that's easy to enjoy and made with quality ingredients," said Hilary Rossi, brand manager. "Inspired by the unforgettable experience of Italian cuisine, Uncrustables Uncured Pepperoni Bites and Uncured Pepperoni Roll-Ups provide parents and kids alike with snack solutions that are packed with flavor and are downright delicious"
The Orrville, Ohio-headquartered company's latest products join an Smucker's Uncrustables lineup that includes Chocolate Flavored Hazelnut Spread Sandwiches, Peanut Butter and Grape Jelly Sandwiches, Peanut Butter and Strawberry Jelly Sandwiches, Peanut Butter and Honey Sandwiches, Turkey and Colby Jack Cheese Sandwich Roll-ups, Uncured Ham and Cheddar Cheese Sandwich Roll-ups, Taco Bites and BBQ Chicken Bites.