The Spar supermarket and convenience store franchise in the United Kingdom has launched additional frozen own label products in line with the category's year-on-year sales surge. Five new SKUs debuted on October 25: raspberries and blueberries in 400g bags priced at £2; corn on the cob in 600g bags selling for £1.30; plus curly fries and potato wedges in 700g and 750 bags priced at £1.50 and £1, respectively.
"With consumers' trust in the quality of our brand lines, the increase in sales in Spar stores is predicted to continue as shoppers look for value and look to reduce their food waste. We will look to capitalize on this switch of shopping habits by bringing added interest to the range with these five new product lines," said Dave Wright, the retailer's UK brand manager.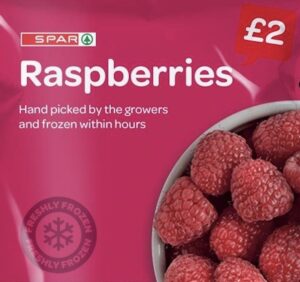 The newly launched frozen products are being supported in-store with POS as well as featured on Spar digital channels. In addition to vegetables, fruits and value-added potato items, Spar offers hundreds of own label and brand name frozen products ranging from fish, meats and ready meals to pastries, snacks, ice cream, cakes and other other deserts.
Spar UK has been a member of the Amsterdam, Netherlands-headquartered multinational group since 1956. There are five regional partners in Britain drawing stock from strategically placed Distribution Centers (DCs) in each region. A central office in London provides national marketing and buying services for the group and supports the development of the brand.
Spar operates more than 2500 stores in Britain, while worldwide there are more than 13,000 outlets doing business in 48 countries spanning Europe, the Middle East, Africa and Australia. Global revenues topped €37 billion in 2019.