Stouffer's, the Nestlé USA brand well known for frozen prepared meals, has been cooking up something new and tasty on the side. Promoted as "the first side dish line that boasts a variety of comfort-inspired recipes to round out and elevate the dinner plate," newly launched Stouffer's Sides range from mashed and scalloped potatoes to rice and vegetable dishes and creamy mac & cheese.
Packaged in convenient-to-serve-from trays, all options are ready to plate after 17 minutes or less of preparation time in microwave ovens. Brief descriptions of the eight offerings, which provide three to four servings each based on product size, follow:
• Homestyle Mashed Potatoes. A comfort food favorite accented with a mix of cream and pepper.
• Broccoli Cheddar Pasta Bake. This recipe features rotini pasta and broccoli tossed in a cheddar cheese sauce and topped with breadcrumbs.
• Scalloped Potatoes. It's made with sliced potatoes smothered in a parmesan cheese sauce and topped with additional parmesan cheese.
• Garlic Mashed Potatoes. Promoted as a "satisfying addition to any dinner," this mashed potatoes treat features a savory garlic flavor with a hint of pepper.
• Cheddar Bacon Potatoes. This is an indulgent side dish boasting diced potatoes mixed in a cheddar cheese sauce, sprinkled with bacon and topped with breadcrumbs for an added crisp.
• Southwestern Cheesy Rice & Beans. Mounted on a base of Mexican-style rice mixed with beans, dressed in a sour cream and mild chile sauce and topped with cheddar cheese, this offering serves up plenty of flavor to savor.
• Macaroni & Cheese. Stouffer's long popular Macaroni & Cheese with real cheddar cheese sauce is now also available in a side dish portion size.
• Vegetable Fried Rice. This version of a takeout staple features rice mixed with carrots, peas, onion and scrambled egg in a garlic soy sauce.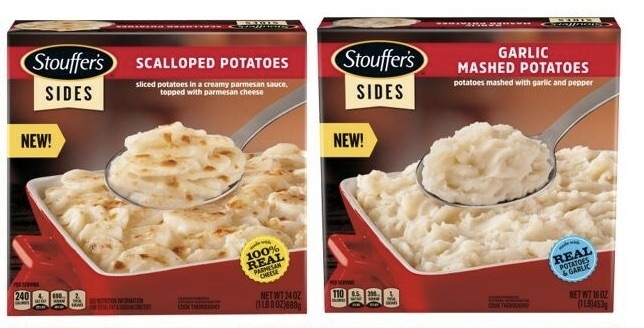 The introduction of Stouffer's Sides comes as consumers seek added convenience with meal preparation and have turned to the freezer section in supermarkets and grocery stores with greater frequency. In fact, a recent survey revealed that 62% of Americans polled are purchasing frozen items for dinner – more than any other daypart – and 51% are buying items packaged as a side dish – more than those purchasing entrées.
"Having delivered the taste of comfort for nearly 100 years, this entrance into the frozen sides category felt like a natural extension," said Nate Hill, vice president of marketing at Solon, Ohio-headquartered Stouffer's. "We're excited to make it easier and more convenient for people to enjoy a well-rounded plate in just a matter of minutes with our elevated Sides recipes."
All varieties of Stouffer's Sides will be available at grocery stores and retailers throughout the United States – including Meijer, Publix and Target – beginning in April at a suggested retail price of $4.49 for 16 oz. packages and $6.99 per 24 oz. pack.