July is National Culinary Arts Month in the USA, and the Talenti Gelato & Sorbetto brand has joined forces with the Black Food Folks fellowship organization to amplify the voices of and provide monetary grants to four trailblazing culinary creators. This is the third consecutive year that the Unilever company is paying tribute to the craftsmanship, heritage and cultural contributions of talented African-American culinary creators of delicious new dishes.
Maya-Camille Broussard, a native of Chicago's South Side and founder of Justice of the Pies, is being saluted as the 2022 Culinary Creator Hero. She founded Justice of the Pies in honor of her late father and gives back to her community in his memory through her "I Knead Love" culinary workshop, which aids children who reside in lower income communities. This fall, she plans to achieve her dream by opening her first Justice of the Pies storefront.

In addition to Broussard, three other persons are receiving grants and being recognized as Culinary Creator Honorees: Jasmine Macon, Felicia Mayden and Ashleigh Pearson. Talenti has released a limited-edition Tasting Menu that promotes their creations, which is being distributed at each of their establishments from July 18 to August 14.
"We are so inspired by the work Maya-Camille, Jasmine, Felicia and Ashleigh are doing in their communities and sharing their love of food and giving back in meaningful ways," said Russel Lilly, the general manager of Unilever's ice cream division in North America. "Talenti is proud to continue supporting local businesses and celebrating the successes of the Black culinary community, while giving them a platform and resources to amplify their voices and expand their culinary reach."
Here's more on the Culinary Creator Honorees and their recipes:
Jasmine Macon from Charlotte, North Carolina opened her own donut shop, Beyond Amazing Donuts (B.A.D.), this summer. She created a Mango Donut with Basil Caramel and Ginger Crumb with Talenti Alphonso Mango Sorbetto (pictured above).
Felicia Mayden, executive pastry chef at The Emily Hotel in Chicago, participates in #BakersAgainstRacism, which connects makers of baked goods across the globe to fight racial discrimination. Her recipe incorporates Talenti Madagascan Vanilla Bean Gelato in a Banana Pudding Ice Cream Sandwich (pictured below).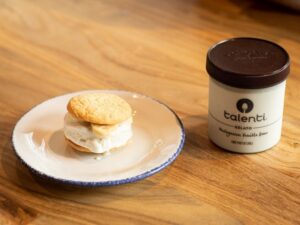 Ashleigh Pearson of Petite Soeur in Washington DC, has taken her background in science and turned it into a business that delivers on the belief that luxury chocolate should be more accessible without sacrificing quality. She created a Coconut Lime Brownie Pop with Talenti Caribbean Coconut Gelato (seen below).
"We are so thankful for our ongoing partnership with Talenti, a brand that shares our vision for supporting and lifting up Black culinary creators," said Clay Williams and Colleen Vincent, founders of Black Food Folks. "The grants from Talenti will allow these four women to continue the incredible work they are doing in their communities and invest in their growing culinary endeavors."