The Tombstone Pizza brand from Nestlé USA is turning up the heat in North America with the introduction of Diablo, featuring spicy chorizo sausage accented with fiery sriracha sauce, jalapenos, sweet red peppers and mozzarella cheese. At the same time, it has rolled out Bratwurst Pizza, which combines the German-style sausage specialty with spicy brown mustard, green peppers, onions, cheddar and mozzerella cheeses and zesty tomato sauce.
"We want dinner to be easy to pull together and focused on fun so families can enjoy spending time together," said Mohini Joshi, director of marketing for Nestlé Pizza. "Tombstone's bold and unique new flavors were created with fun in mind, so you can spend less time prepping your meal and more time enjoying it."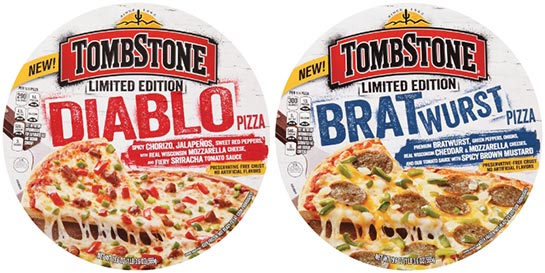 Each Limited Edition pizza features a preservative-free crust, contains no artificial flavors, and bakes up in home ovens in 17 to 19 minutes. They weigh in at 555 grams and are offered at a suggested retail price of $4.99.
Among other frozen pizza brands in the Nestlé USA portfolio are DiGiorno, California Pizza Kitchen, Jack's and Delissio.