Despite the notorious inclement weather in the United Kingdom, ice cream is hugely popular with Brits. In fact, according to the British Frozen Food Federation's Frozen Food Report 2022, its sales value has more than doubled since 2005.  The Kantar data analytics group cites ice cream as the largest single category in frozen, with sales of approximately £1.3 billion in the retail sector. It accounts for 18.6% of its overall frozen food sales, which is an increase from 17.3% in 2019.
The boom in ice cream sales in the retail sector can be attributed to changes in eating habits as a result of the coronavirus pandemic, with many consumers treating themselves more than usual during this period.
According to Neilsen Scantrack, 2020 was a record year for ice cream, with handheld sales surging by 19.1% in value and 9.8% in volume, and tubs up by 10.3% in volume and +6.9% year-on-year. Although not as much, in 2021 sales of handheld ice cream rose by 7.8% in volume, up 6.4%, while purchases of ice cream in tubs advanced by 0.9% on volume.
"This year, despite the daunting task of trying to annualize the record breaking numbers of 2020 and a typically British summer, sales have been largely positive," said Henry Craven, customer marketing controller at Froneri. "We've seen demand for ice cream remain strong, as consumers have stuck with the increased consumption habits they formed during lockdown.
"To understand the underlying long term category trend, we need to look at pre-Covid times. Sales for summer 2021 versus summer 2019 were up by more than 20%, really highlighting the strength and long-term growth the category is enjoying."
Snacking
There has been a number of innovations within the sector and ice cream snacking occasions have become increasingly popular as mealtimes and dessert occasions become less formal.
"This growth has been accelerated by Covid conditions," pointed out Craven. "Although tubs remain important to the category, handheld products are generally more suited to snacking, so we've seen them continue to gain in popularity, making up almost two-thirds of sales last summer and 69% of units."
Although demand for impulse options has grown, retailers can find the smaller tubs more difficult to stock as their 120ml size and shape can make them difficult for larger retailers to stock.
"We saw a gap in the market for these minis in larger retailers, as well as an opportunity to create significant growth by creating new listings which avoid competing in as competitive a space as its main product offerings," explained Stuart Common, sales and marketing director at Mackie's of Scotland. "By boxing the minis into a collection they became a product which is easily transported, stocked and shelved by larger retail customers."
The collection was such a success that retail customers came back to Mackie's requesting a second product with different flavor variations. This led to the creation of the mini selection, which has also been immensely popular.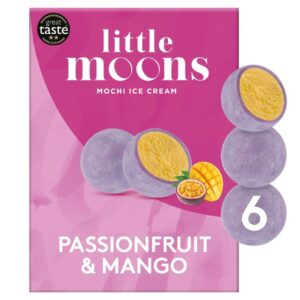 East Meets West
Another product that has recently boomed in popularity are mochi balls – ice cream wrapped in rice dough. The Mochi ice cream balls build on the classic mocha flavor, fusing eastern and western culinary traditions.
"We grew up in our family bakery, surrounded by a passion for incredible food from around the world, so when we started Little Moons we wanted to bring that ethos to ice cream," explained Howard and Vivien Wong, the siblings who founded Little Moons. "With a mouthful of artisan ice cream lovingly wrapped in soft mochi dough, each Little Moon is a little lift to elevate your day. Some ice creams can consist of up to 90% air, but not ours. The higher density of our gelato means it's not as soft straight out the freezer, but results in a more intense flavor with patience."
TikTok has gone wild for this product, with the likes of Tesco selling out when they were introduced to the freezer aisle. Other retailers, like Lidl, introduced Vitasia Mochi Ice Cream in four varieties including succulent mango, smooth vanilla, indulgent chocolate and fresh coconut, costing £2.99 per pack.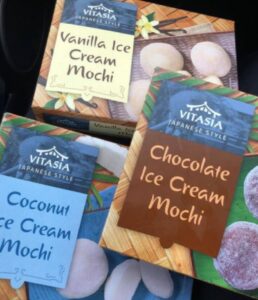 Free-from Vegan Offerings
Veganism has gained huge momentum and as such there has been increased demand for free-from options in the ice cream sector. As foodservice operators struggle to re-establish their businesses in the wake of the pandemic, the need to offer free-from versions of popular products is clear.
"On the back of the dynamic growth in dairy alternatives, sales of vegan ice cream are flourishing as it benefits from the health halo now surrounding all plant-based products," said Gordon Lauder, managing director of frozen food distributor Central Foods. "Vegan ice cream also benefits from fulfilling two key consumer needs, again brought on as a result of the pandemic: indulgence and health. There are some fantastic, creamy ice creams now available that are suitable for customers seeking free-from products and which are almost indistinguishable to regular dairy ice cream."
Central Foods offers non-dairy ice cream in the UK's three most popular flavors – vanilla, chocolate and strawberry – and each is deliciously creamy, but free from allergens such as wheat, gluten, milk, eggs and nuts, making it suitable for all customers.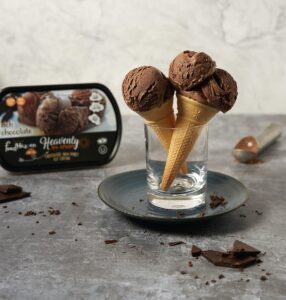 Trends, such as positive health, are forecast to grow substantially, according to the British Frozen Food Federation, and this will lead to increased interest in plant-based products in a widening range of categories including ice cream and frozen desserts.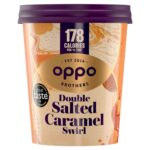 "Whatever the ingredients, ice cream will always be about enjoyment," said Thuillier, managing director of Oppo Brothers Ice Cream. "And with an increasing number of consumers entering the frozen aisle with an expectation that ice cream doesn't have to be the junk food it once was, the category is ready to bounce back in 2022 with a raft of innovation to format and ingredients."
– Reported by Sarah Welsh