The rise in new brands entering the meat-free food category in the United Kingdom, among them The Vegetarian Butcher and This Meatless Farm, and well known frozen product giants like Birds Eye launching plant-based products, saw the market achieve annual retail sales of £578.9 million during the 52-week period ending on June 18, 2022, according to the Nielsen data and analytics company.
Meanwhile, research by The Vegan Society released in March of this year suggests that 17% of Brits have actively reduced the amount of meat they're eating. Furthermore, 8% have cut back on dairy and/or eggs, 3% have cut back on both, and 6% have reduced consumption of seafood and other fishery products. This means that 23% of the population has minimized dietary intake of animal products.
The on-trade segment has certainly taken note of this shift in consumer eating habits, according to Lumina Intelligence's report on the composition of the pub and bar menus of 20 major chains. It found that 57% of starters, 62% of side dishes, and a third of main courses were tagged as either vegan or vegetarian.

"In terms of population percentage there are some cities and towns within the UK that are as vegan as Los Angeles, so if you are a caterer in places like Brighton, Bristol or Falmouth, you very quickly understand the need to innovate in order to cater for the approximately 10% of people who are full time plant-based consumers in your area, and up to 20% who will eat a plant-based meal when dining out. Being vegan is not a trend, it's a movement," said Sarah-Jayne Law, sales director for key accounts at KFF.
Flexitarianism has moved new product development focus to plant-based meat substitutes that emulate the look and flavor of animal protein. According to the British Frozen Food Federation, products such as sausages and burgers that have been formulated to mimic the taste and mouthfeel of real meat are particularly significant for the frozen plant-based sector, accounting for 82% of sales. The remaining 18% of frozen plant-based food sales is made up of conventional "veg forward" products.
Supermarkets
Veganuary 2022 had a huge impact in the United Kingdom, with restaurants adding more than 740 new vegan menus and the launch of over 800 new vegan products.
High street brands are continuing to get in on the popularity of products in supermarket freezers, with Greggs and itsu entering the market in 2021, bringing the high street into consumers' homes. In fact, itsu [grocery] and Greggs shops generated combined sales of £3.9 million in Y1, according to Nielsen statistics.
"In the UK, the meat-free category is not just for vegans. It's flexitarians that are largely driving the growth," said Mary Crichton, itsu's public relations and influence manager. "In response, and after months of development, we launched an exceptional 'fake meat' gyoza, which is juicy and full of flavor – the Teriyaki Chick'n Vegan Gyoza."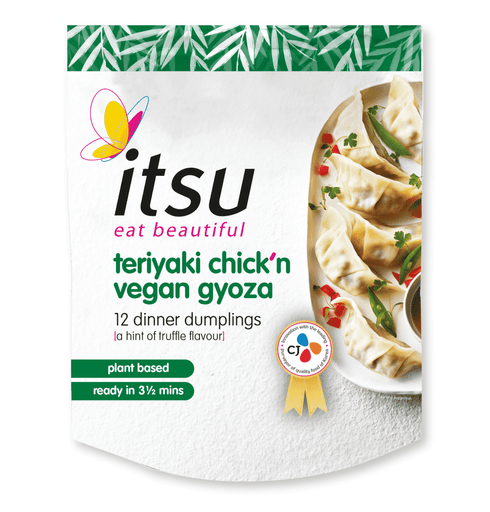 Birds Eye has also upped its meat-free presence in the frozen food aisle, increasing the number of Green Cuisine range SKUs from five in 2020 to 19 in 2021. This has driven the Nomad Foods brand's market share in the category to 8.4%.
It's not just center plate products that have consumers reaching for plant-based frozen food items, with companies such as Strong Roots taking advantage of the opportunity in frozen meat-free snacking. In fact, it has developed convenient toaster-friendly products as one way to cash in on this trend. The fact that frozen potato products and appetizer specialist McCain Foods has taken a stake in the Dublin, Ireland-based company underscores the longevity of this trend.
Foodservice
On the foodservice front things have also been changing, with more focus on plant-based options for diners appearing on menus. Thanks to innovation in the food industry, the market is now flooded with products to make catering for flexitarians, vegetarians and vegans easy. Products have been made to appeal to the widest possible audience, not just those with dietary requirements, which will help outlets avoid menu proliferation.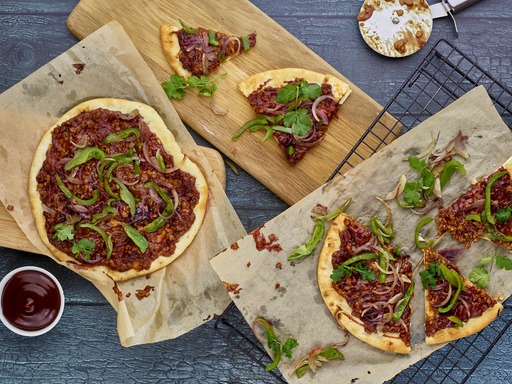 "Many foodservice operators have simplified their menus as a result of the Covid-19 pandemic due to staff shortages, supply chain issues or uncertainties over demand, and offering tasty plant-based options that appeal to all is a way of streamlining operations and reducing wastage," said Gordon Lauder, managing director of Northamptonshire, England-based frozen food distributor Central Foods.
Brakes' plant-based products are also doing well, with its best selling burger now a meat-free variant. The company ha also experienced strong sales this year from the debut of plant-based Cumberland sausage, made with soya protein.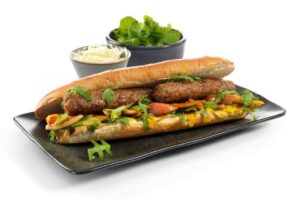 "One way of overcoming some of the challenges currently in the hospitality sector and to avoid a crowded menu is for venues to serve tasty vegan options that will go down well with all customers, not just those with dietary requirements. This approach is one of the things that is helping to fuel the demand for plant-based options required by the foodservice sector," said Marie Emmanuelle Chessé, international development project manager at Tipiak, which supplies frozen, authentic French sweet and savory pâtisserie to the hospitality sector.
She added: "This tactic is proving especially convenient for certain meal courses at events and functions because it makes things simple for kitchen staff when they are catering for large numbers and when swift serving is imperative. Opting solely for vegan items for the canapés or hors d'oeuvres and for the desserts courses, for example, makes things easy. It avoids supersizing the menu and workload. We're hearing that the organizers of some large events, such as receptions or functions, are moving towards this approach, as it really helps with the prep and serving."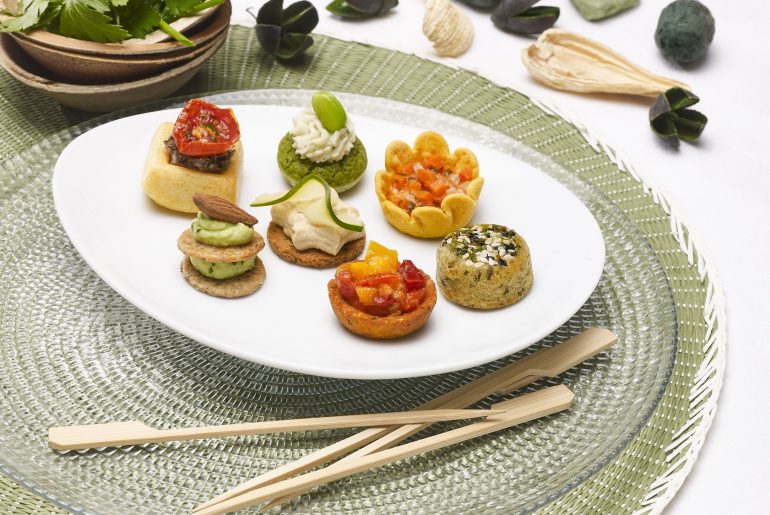 Tipiak's thaw-and-serve Vegan Cocktail Selection (pictured above) taps into this demand as it appeals to all. It's a range that works across numerous meal occasions – from bar snacks and tapas to buffets and functions – making it a very versatile plant-based product for the foodservice sector."
Although veganism was previously slowly gaining traction in the UK, the pandemic accelerated demand for plant-based products as consumers increasingly focussed on healthy eating following the Covid-19 outbreak. As the new year approaches and with Veganuary on the horizon, there are bound to be more products entering the market moving into 2023.
– Reported by Sarah Welsh