East Asian cuisine has been popular in United Kingdom households for a long time, having been introduced to British consumers well centuries ago. The current Covid-19 health crisis, which has spread financial difficulties along with the pandemic to large numbers of the population, has seen demand for supermarket takeaway options rise as people look to treat themselves to favorite dishes while carefully budgeting expenses.
According to CGA, Chinese takeaways are the number one takeaway option (60%) in the UK. However, Chinese flavors and meals are often quite difficult to recreate at home due to the fact that most of the ingredients are usually store cupboard items, which makes it an expensive option for those preparing household meals.
"Chinese products have always been popular in both supermarkets and in the restaurant trade, and are still very popular with our customers," said Matthew Hunns, ready meals trading manager at the Iceland retail chain. "In a normal week we will sell nearly 180,000 meals across our 'Takeaway' and 'Bag Meals' ranges."
Iceland's 12-stong Takeaway No28 assortment includes classic dishes such as Sweet and Sour Battered Chicken priced at £1.59, Crispy Duck with Pancakes for £4.50, Chicken Chow Mein at £1.59, and Egg Fried Rice offered for just £1.
The private label specialist's Meals in Minutes line includes Chinese Chicken Stir Fry, Oriental Chicken Noodles Stir Fry, Hoisin Shredded Duck Noodles Stir Fry and Singapore Noodles Stir Fry, all retailing at £2.50.
According to Hunns, Chinese Chicken Chow Mein Noodles is the number one seller, followed by Egg Fried Rice (plain, with chicken, and with chicken and prawn). Duck and Pancakes also ranks high in popularity among consumers.
Alongside own label offerings of frozen Chinese ready meals, which range from £1 to £2.50, the ASDA supermarket chain also stocks Sharwood's brand Sweet and Sour Chicken with Rice and Chicken Chow Mein, priced at £1.
While options are plentiful, there has not been a lot of innovation in the frozen Chinese food category. CGA's report found that a third of people surveyed said they always ordered familiar dishes, preferring not to deviate from what they have had before.
"Customers like to stick to what they know, but there does seem to be a shift to more authentic recipes," said Hunns.
High Demand for Thai Dishes, but Little to Choose from in Frozen Aisles
Thai cuisine is clearly in high demand in the UK out of home sector, with the number of Thai chain restaurants doubling between 2013 and 2018 – leaping 123% from 66 to 147 following the rise of brands like Rosa's Thai Café and Giggling Squid. The popularity can be attributed not only to tasty flavors and pleasant fragrances, but also to perceived healthy eating values of the ingredients.
However, this consumer demand is not yet well reflected in the frozen aisles of retail stores. ASDA, Morrisons, Sainsbury's and Tesco all only sell one frozen Thai option – own label Green Curry. With considerable demand for Thai food on the high street, it would seem that operators of supermarkets and grocery stores are missing a trick in their frozen aisles.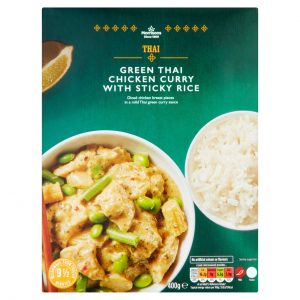 Sun Rises for Japanese Cuisine
There has also been an incredible rise in demand for Japanese food in Britain, with supermarkets experiencing a 53% increase in searches for Japanese cuisine since the start of the UK government-imposed lockdown to stem the coronavirus infection tide. Authenticity is also increasingly important, with CGA revealing that 84% of consumers cite this as a major factor when eating Asian food.
"Consumers are looking to recreate the restaurant experience at home," said Natalie Sugarman, grocery marketing director at Itsu. "Our supermarket range has seen phenomenal growth, recording record sales in January and February 2020."
In fact, Itsu is driving new shoppers down the frozen aisle, posting 126% year-on-year growth for the 52-week period ended 08/09/2019, challenging the traditional frozen food brand offering. It should be noted that 76% of gyoza sales are incremental to the category.
"The freezer aisle, which has notoriously lacked premium quality products or any discernible innovation, has begun to become a destination for shoppers looking for exciting new cuisines to try and innovative meal alternatives," explained Sugarman.
Itsu's gyoza products are proving to be a hit with consumers who are looking for quality, authentic fare that is quick and convenient to cook. The fact that items such as frozen gyoza can be ready in as little as four minutes and bao buns in just one minute makes them popular Japanese options among UK consumers.
"Itsu has played an important part in driving incremental sales in the frozen category by launching restaurant quality, innovative products, attracting a new shopper to the frozen aisle," said Sugarman. "We are seeing ROS higher than ever before in frozen lines. The brands' frozen gyoza and bao'bun ranges have been performing markedly well across the market."
Itsu logged a continuous return on sales increase throughout April in all SKUs in both lines, ranging from 7% to 68%. Notably, ROS for the two longest standing frozen SKUs, vegetable fusion gyoza and chicken gyoza, increased by an average of 32%.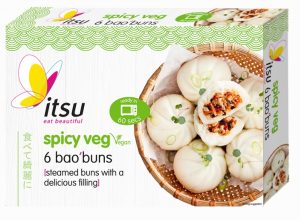 Its frozen gyoza and bao bun ranges are charting an impressive 111% year on year growth rate. The hugely popular gyoza range sold 53 million units in 2019 alone, making Itsu the number one seller of frozen gyoza in the UK with an impressive 87% market share figure.
Additionally, since launching bao'buns in September of 2019, Itsu has sold 2.5 million steamed buns and is forecasted to sell an skyrocketing total of 62.2 million gyoza and bao in 2020.
Judging by the number of thriving high street chains and demand in supermarkets, British consumers have got a real taste for East Asian cuisines, with authenticity high on the agenda. Currently Chinese-style products seem to be dominating supermarket freezers, with Japanese and Thai dishes trailing behind. – Reported by Sarah Welsh