Unilever North America on January 11 unveiled a portfolio of 19 new offerings across four packaged ice cream and frozen novelty brands, including Breyers, Klondike, Magnum ice cream, and Talenti Gelato & Sorbetto. These latest creations, which will be rolled out at major retailer stores throughout the USA and Canada in January and February, include twists on classic American flavors, unexpected flavor combination pairings, and the expansion of fan favorite lines, "better-for-you" offerings and non-dairy options.
"As the maker of iconic and adored brands, we are constantly looking at trends and innovations to bring frozen treat lovers new experiences that they will enjoy," said Russel Lilly, vice president of Englewood Cliffs, New Jersey-headquartered Unilever Ice Cream North America. "This year, we are excited to bring inventive flavors, increased variety, and reimagined takes on classics to your favorite retailers. We have also expanded our popular lines."
For over 150 years, the Breyers ice cream brand has been in the forefront in developing frozen treats using high quality ingredients. In 2022, it continues the tradition by introducing a number of new offerings, as detailed below:
Breyers M&M's MINIS Caramel Fudge features a caramel light ice cream rippled with a rich fudge swirl and mixed throughout with M&M's MINIS Candies made with real milk chocolate and surrounded by a colorful candy shell.
Breyers Very Berry Cobbler combines strawberry with a black raspberry swirl and a cobbler crumble mixed throughout – offered as the perfect sweet treat for berry lovers.
Breyers Banana Split contains a fruity banana frozen dairy base with refreshing strawberry pieces and a chocolate swirl to create the ultimate twist on a banana split sundae.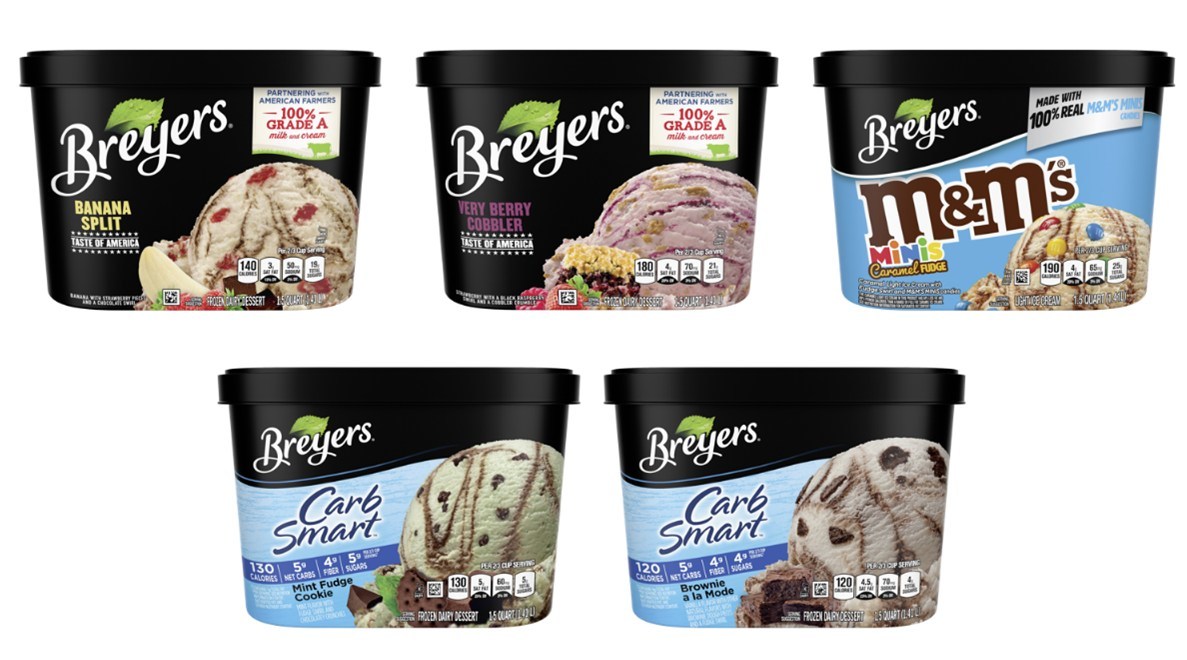 The brand is also expanding its popular CarbSmart line with two new flavors, Brownie a la Mode and Mint Fudge Cookie.
Breyers Brownie a la Mode features classic Vanilla CarbSmart swirled with brownie dough pieces and fudge throughout.
Breyers Mint Fudge Cookie includes a refreshing mint base churned with fudge swirl and chocolatey crunches for a cool yet rich taste.
Each 48 oz. tub contains 9 servings per container (serving size is 2/3 of a cup) with 120 to 130 calories, 5g net carbs, 4g of fiber and 4g to 5g of total sugar per 2/3 cup serving, making them a smart choce for consumers watching their calorie or carb intake but still looking to enjoy something sweet.
Breyers flavors are made with 100% Grade A milk and cream that comes from cows not treated with artificial growth hormones.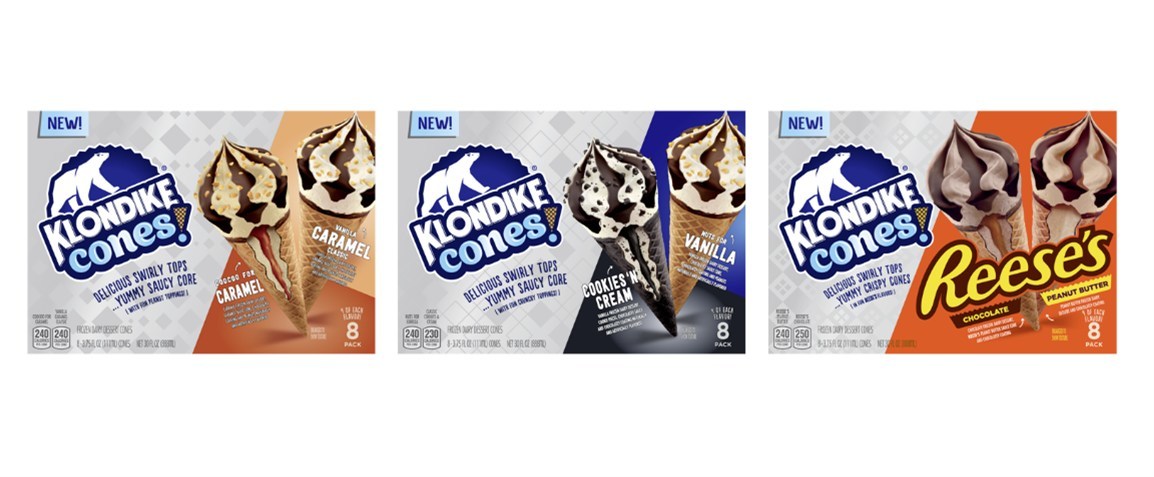 More Klondike Cones Combinations
Klondike is expanding its existing line of Klondike Cones with five new flavors including Coocoo for Caramel, Vanilla Caramel Classic, Cookies 'n Cream, Reese's Peanut Butter, and Reese' Chocolate.
• Klondike  Coocoo  for Caramel Cones includes a sweet caramel base paired with a caramel sauce core, a crispy wafer cone, and topped with chocolatey coating and crunchy roasted peanuts.
• Klondike Vanilla Caramel Classic Cones  features a creamy vanilla base paired with a sweet caramel sauce core, a crispy wafer cone and topped with chocolatey coating and crunchy roasted peanuts.
• Klondike Cookies 'n  Cream Cones includes a creamy vanilla base swirled with chocolatey cookie pieces paired with chocolatey sauce core, a crispy chocolatey wafer and topped with chocolatey coating and more chocolate cookie bits.
• Klondike Reese's Peanut Butter Cones features a creamy peanut butter base and a crispy wafer cone topped with chocolatey coating.
• Klondike Reese's Chocolate Cones includes a chocolate base paired with REESE'S signature peanut butter sauce core, a crispy wafer cone, and topped with chocolatey coating
These new flavors will debut in three different multi-flavor pack offerings: a caramel obsession pack that includes Coocoo for Caramel & Vanilla Caramel Classic, a cookie lover pack with Cookies 'n Cream & Nuts for Vanilla, and a Reese's peanut butter and chocolate fan pack with Reese's Peanut Butter & Reese's Chocolate.
Magnum Indulgence for Chocolate Lovers
Magnum ice cream introduces Magnum Duets, positioned as the first ice cream bar to be dipped in two types of chocolates debuting in three flavors: Almond Duet, Chocolate Duet, and Cookie Duet. The double-dipped chocolate shell coating is made with Belgian chocolate for a decadent taste.
• Magnum  Ice Cream  Almond Duet Bars feature a velvety almond ice cream swirled with brown sugar almond butter, fully dipped in milk chocolate with almonds and half dipped in dark chocolate. They are made with 39% cacao and 68% cacao chocolates.
• Magnum  Ice Cream  Chocolate Duet Bars offer rich vanilla ice cream with a raspberry swirl fully dipped in a white chocolate shell and half dipped in a milk chocolate shell. MThey are made with 33% cacao and 44% cacao chocolates.
• Magnum ice Cream  Cookie Duet Bars  combine creamy vanilla ice cream with chocolate ganache swirl, fully dipped in white chocolate with chocolate cookie pieces and half dipped in milk chocolate. 
Non-Dairy Flavors
Magnum ice cream expands its non-dairy offerings to include new flavors, Hazelnut Crunch and Mini Variety Pack, featuring Non-Dairy Classic and Non-Dairy Almond flavors, providing more options for customers to experience.
• Magnum  Non-Dairy Hazelnut Crunch  Bars feature a decadent, vegan hazelnut base with a salted caramel swirled throughout, dipped in caramelized hazelnuts and non-dairy chocolate.
• Magnum  Non-Dairy  Mini Variety Pack  offers two indulgent flavors to choose from, Non-Dairy Classic and Non-Dairy Almond, now available as snackable treats in a convenient mini bar format.
Magnum ice cream's Non-Dairy Hazelnut Crunch Bars and Non-Dairy MINI Variety Pack join existing non-dairy flavors Almond and Sea Salt Caramel. The non-dairy line will have a new packaging design featuring a new logo and the brand's signature, indulgent crack.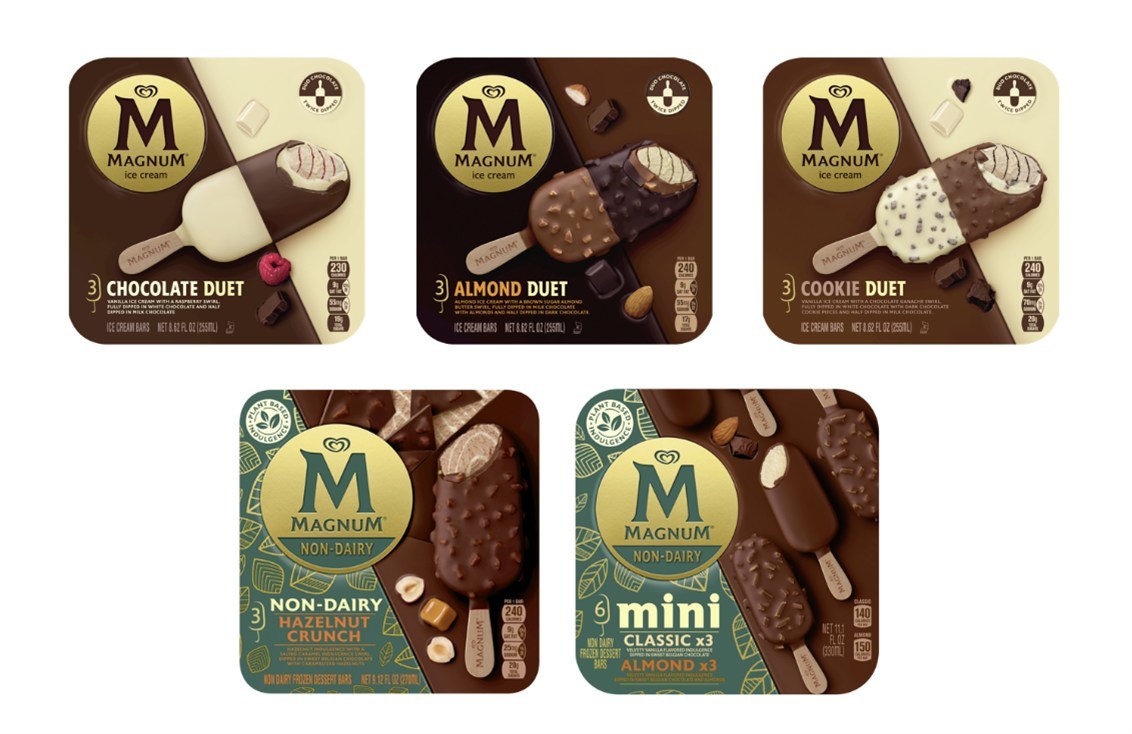 Talenti Gelato Flavor Combinations In Pint Jars
In February, Talenti Gelato & Sorbetto, the best-selling gelato brand in the United States, welcomes its new Talenti Gelato Pairings line with four flavors: Strawberry Margarita, Bourbon Fudge Brownie, Salted Chocolate Churro and Caramel Pretzel Blondie.
• Talenti Strawberry Margarita Pairings feature sweet Strawberry Sorbetto and tart Lime Sorbetto with agave from Mexico to create a refreshing spin on the classic margarita flavor.
• Talenti Bourbon Fudge Brownie Pairings is promoted as "the ultimate pairing for chocolate lovers," combining Belgian Chocolate gelato, gooey baked brownies pieces, dark fudge and a sophisticated Oak-Aged Bourbon gelato.
• Talenti  Salted Chocolate Churro Pairings  is a sweet and salty balance of Belgian Chocolate gelato and Cinnamon gelato with salted caramel and churro pieces.
• Talenti  Caramel Pretzel Blondie Pairings combines best-selling Talenti Sea Salt Caramel gelato made with a signature sweet Dulce de Leche and Salted Pretzel gelato with Blondie brownie pieces for a sweet and salty treat.
Each indulgent jar features two paired flavors that can stand alone, but together, creates the "perfect bite." The four new flavors have been inspired by industry tastemakers including chefs, mixologists and dessert influencers.