The Winter Fancy Food Show, which kicked off on January 19 at Moscone Center in San Francisco, will run through the 21st. Now in its 39th year, the sold-out trade fair features a growing number of frozen food companies doing business in the $86 billion specialty food industry.
Covering a record 212,000 square feet of exhibit space filled with more than 1,350 exhibitors featuring approximately 80,000 specialty foods and beverages from around the world, this year's running boasts more suppliers and products than ever before.
"The Winter Fancy Food Show is setting a confident tone for the year ahead," said Ann Daw, president of the New York City-based Specialty Food Association, the show's owner and producer.
Among innovative frozen products to see and sample are handcrafted Brie en Croute offerings from Pleasanton, California-based Elegant Brie. The bake-at-home appetizers combine creamy brie cheese and a flaky crust with various fillings including mushroom, garlic and scallion.
Mulay's Sausage Corporation of Longmont, Colorado, is serving up hot Italian sausage and other products made from "old world, Sicilian-style family recipes." Six traditional, gluten-free flavors are offered, each featuring antibiotic-free pork.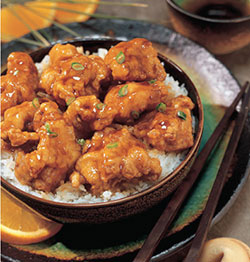 Mandarin Orange Chicken from Ling's 5th Taste is especially popular on school foodservice menus.Mandarin Orange Chicken is new in the Authentic Asian Entrees range of frozen foodservice products from South El Monte, California-based Ling's 5th Taste. The crisp, juicy battered and glazed products contain no MSG, trans fat or lard. Other items in the line, which has become increasingly popular on menus at schools, include BBQ Chicken Teriyaki and Edamame Kung Pao Chicken.
Polska Foods, Inc. of Saratoga, California, is featuring Pierogi-Organic, a retail range of pierogis made strictly from organic raw materials that are free of GMOs, preservatives, soy, trans-fat and hormones. Five flavors are being showcased, among them vegan and vegetarian varieties of Potato & Cheese in whole-wheat dough, Mushroom & Cabbage and Spinach & Feta.
For those looking for something heartier to bite into, Polska's newly launched Savory Beef & Pork Pierogi is blended with sweet caramelized onions, mushrooms, roasted garlic, smoky paprika, and aromatic herbs before being slowly cooked in tomatoes and peppers. It, like other products in the range, is based on an authentic recipe from the co-founder's grandmother, a native of Lubiechowa, Poland.
Philip R's Espresso Bean Lollibons serve up nicely as desserts for anytime treats.From Bellaire, Texas, GoodPop's latest frozen confectionary is Strawberry Lemonade. Both gluten- and dairy-free, its calorie count is just 50 per serving. Now available in four-packs at retail stores, the classic treat contains no artificial flavors, GMOs or refined sugars.
Philip R's Frozen Desserts of Winchester, Massachusetts, is on the San Francisco scene with a wide assortment of hand-made ice cream and sorbet desserts that run the gamut from Espresso Bean Lollibons and Chocolate-dipped Mini Cones to Citrus Mascarpone Torte and Chocolate-dipped Strawberry Sorbet.
This is just a glimpse of the frozen fare being showcased at the Winter Fancy Food Show. For details about other products in the spotlight, check out the organizer's website: www.specialtyfood.com.