The New York Women's Forum has honored Tyson Foods, Inc. for achievement in women's diversity by having two women serving on its nine-member board of directors. Furthermore, nearly half of all officer positions are filled with females, and almost 40% of the company's 115,000 employees are women.
Sara Lilygren, Tyson's executive vice president of corporate affairs, represented the company during the event held at the New York Stock Exchange.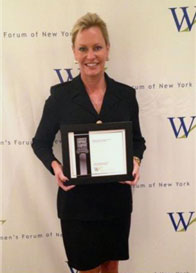 Sara Lilygren, Tyson Foods' executive vice president for corporate affairs, accepts the women's diversity achievement award during a ceremony held at event held at The New York Stock Exchange."We are honored to be here today among all the great companies that strive to provide opportunities for women at all levels," she said. "But we aren't there yet. We've set aggressive goals for ourselves to continue to grow opportunities for the women at Tyson Foods, including current and future team members."
Headquartered in Springdale, Arkansas, USA, Tyson Foods is one of the world's largest processors and marketers of chicken, beef and pork, and ranks as the second-largest food production company in the Fortune 500 listing. Founded in 1935, it produces a wide variety of protein-based and prepared food products, many of which are distributed in frozen form to retail and foodservice customers in more than 130 countries around the world.
The Women's Forum of New York, founded in 1974, is an organization of over 430 women leaders representing the highest levels of achievement across all professional and business sectors from finance to fine arts. It is the flagship of the International Women's Forum organization, comprised of 66 affiliates with nearly 5,000 members around the world.