Aldi has been rated as the United Kingdom's favorite in-store supermarket in Which?'s annual best and worst supermarket satisfaction survey. The independent poll asked 6,800 shoppers about their experiences in grocery stores during the pas six months.

The announcement on February 12 was no doubt especially welcomed by the budget retailer, which has been coping with the fallout of negative publicity in the wake of a recent recall of as many as 38,000 packs of frozen vegetables from shops in Britain. This occurred after the grocery chain received several complaints about rodent parts being discovered in bags of mixed greens sourced from a Belgian supplier before Christmas.
"We're over the moon to be named the best supermarket by UK shoppers," said Matthew Barnes, chief executive, UK and Ireland at Aldi. "We're proud to offer fantastic quality products at amazing prices and to be named the UK's favorite supermarket shows just how much we are resonating with shoppers."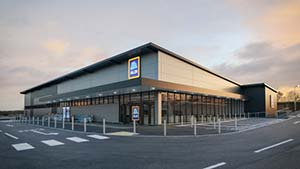 This is the second time Aldi has come out on top in Which?'s annual survey – the previous occasion was in 2014. Customers cited the quality of the deep discounter's own-label products, as well as the ease of finding items on shelves and the availability of special offers.
Waitrose has been knocked off the top spot, which it held for three years, and dropped to fourth position. Customers gave the chain a two-star rating for its value for money, in contrast to Aldi's five.
Marks & Spencer came in second place in the in-store survey with five-star ratings across store appearance, quality of own-label products and the quality of fresh products.
Lidl ranked in third position with five stars for its value for money, but did not do so well with customers when it came to queuing time, staff availability and range of products.
Tesco, Asda, Morrisons and Sainsbury's languished at the bottom of the in-store survey. Customers at Sainsbury's were least impressed with its special offers and value for money, bringing it in last out of nine supermarkets.
Iceland, Ocado Online Faves
Among online supermarkets, frozen food specialist Iceland has claimed the top spot for the third year running, which it shares with Ocado for the first time. Iceland received five stars for its driver's service and the availability of delivery slots – with 76% of shoppers saying their most recent order was delivered on time.
"We are naturally delighted to have been recognized once again as Britain's best online store in the annual Which? supermarket survey," said Nigel Broadhurst, managing director of Iceland. "We are also a business that is and has always been committed to doing the right thing, most recently reflected in our aim to eliminate plastic packaging from our own-label range by 2023."
Asda languishes at the bottom of the online supermarkets table, where it has been for more than a decade.
Launching in 2016, Amazon Fresh has been included in the online survey for the first time, coming in fifth position. The service is only available to certain postcodes in the south east of England.
"With food costs rising it seems as though shoppers have felt the pinch and are voting with their feet and wallets," said Alex Neill, managing director of Which? Home Products and Services. "Aldi and Lidl have won over their customers with value for money, knocking Waitrose off the top spot. The big four supermarkets need to up their game or risk losing their customers to other supermarkets who are doing a better job of giving people what they want."
"Rat Pack" Probe
Meanwhile, back to the story about rodent parts found in what one British newspaper headline writer called "The Rat Pack." In a report reviewed by The Sun, the London-based tabloid learned that there have been three complaints of "pieces of small rodent being found in one batch of mixed vegetables."
A story in the newspaper published on February 5 revealed "the supermarket chain had received one customer complaint and two from Environmental Health over the same batch…Three complaints have been received due to pieces of small rodent being found in 52163 Mixed Vegetables."
Upon receiving the complaint in January, Aldi was quick to take action.
"We removed the product from sale to prevent any further issues," said an Aldi spokesman. "We suspended all orders from this production site whilst we investigate this matter."