At long last, the Boston Seafood Show  kicked off on March 13 after a two-year hiatus. The delayed 40th edition of the exhibition, formally known as  Seafood Expo North America/Seafood Processing North America, had been sidelined for the past two years due to government imposed lockdowns and social gathering restrictions forced by the coronavirus pandemic.
Running for three days through March 15 at the Boston Convention and Exhibition Center, the face mask optional event (masks and proof of vaccination against Covid-19 are no longer required to attend) is filled with suppliers eager to present fish and seafood products, processing equipment, packaging and other goods and services to buyers.
Frozen products are in high profile on the show floor, which features more than 830 companies from 50 countries occupying approximately 180,000-square-feet of space. This compares with 1,329 exhibitors from 49 countries in attendance during the last edition in 2019, when 256,690 net square feet of exhibit space was occupied.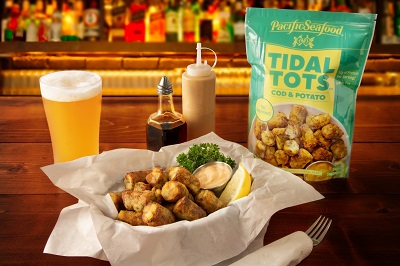 The 2022 Seafood Excellence Awards ceremony at 3 PM on the opening day promised to be one of the show's high points. Frozen products in the final competition included DOM  Reserve Singles Salmon Poke, Cobia Panko Bites from Netuno USA, Pacific Seafood's Tidal Tots, and Handy Seafood's Chesapeake Bay Panko Breaded Oysters (crassostrea virginica).
The list of frozen fish and seafood exhibitors, while shorter than in years past, is nonetheless impressive. Among leading suppliers are Trident Seafoods, Camanchaca, Clearwater, Cooke Aquaculture, Devi Seafoods, Eastern Fish, Eastern Fisheries, Handy International, Icicle Seafoods, Lund's Fisheries, Nova Scotia Seafood, Northern Wind, Ocean Beauty, Orca Bay, Pacific Seafood Group, Panama Frozen Export, Pescanova, Shaw's Southern Belle Frozen Foods, Thi Foong USA, PrimStar BV, Viciunai Group, Royal Greenland, Young's Lobster and Zaloom.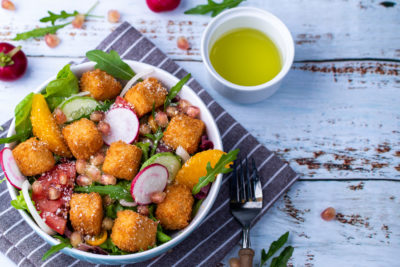 Numerous innovative equipment manufacturers, cold storage operators and logistics specialists are on the scene as well, including GEA, Gregor Jonsson, IBE Blast Free Racks, Nothum Food Processing Systems, JBT Avure, Reiser, Pisces Fish Machinery, Laitram Machinery, Sort-Rite International, Linde, Reiser, Raymond Corporation, Yamato, Ketchum Manufacturing, Americold, RLS Logistics, Pyramid Transport and Cold Storage, and Interstate Cold Storage. 
There are many representatives from foodservice, retail, wholesale and distribution companies at the show. Among those registered are key buyers from Red Lobster, Darden, Captain D's, Acme, Albertsons, Bloomin' Brands, Costco, Foodbuy, Giant Eagle, H-E-B, Jewel Osco, Kroger, Publix, Loblaw, Long John Silvers, McDonald's, PFG, Sam's Club, Stop & Shop, Sysco, Target, The Cheesecake Factory, Walmart, Wegmans, Whole Foods and US Foods.
National and regional pavilions promoting products from their countries and states are also well represented.
"The Australian Trade and Investment Commission is excited to be participating in the Seafood Expo in 2022 for the first time," said Rachel Moody, senior trade director – food and beverage, at the Australian Trade and Investment Commission (Austrade). "Our goal is to highlight the variety and value of Australian seafood and introduce North American industry and partners to our producers. We will be supporting up to 12 companies, promoting a variety of species from abalone to rock lobster to finfish while at the show."
The Marine Products Export Development Authority (MPEDA) of India is  participating with 11 companies showcasing products including frozen shrimp, cuttlefish, squid and breaded and battered fish fillets.
"The show will be a wonderful opportunity to see the seafood professionals again, all under one roof. Nothing beats a face-to-face interaction," said MPEDA Chairman K.S. Srinivas.

Plenty of buyers, as always, will be on the scene looking for new products and reliable suppliers.
"I have been attending the Seafood Expo in Boston as a buyer for many years, and I am looking forward to attending again," said Brad Clark, chief supply chain officer at Captain D's. "This event is a great opportunity for me to meet with my existing suppliers as well as meet new suppliers and look for new products to carry in our restaurants. After two years of not being able to meet in person, it is more important now than ever to be able to attend the expo to do business."
According to statistics from the show's organizer, Portland, Maine-headquartered Diversified Communications: "Buying decisions are made during and immediately after the exposition. In the last edition, 85 percent of surveyed visitors were involved or influence purchasing decisions, 71 percent planned on making a purchase as a result of attending the event and 88 percent found new products or companies."
– Reported by John Saulnier