The producer of Caulipower, the leading frozen cauliflower crust pizza and gluten-free pizza in the USA, has entered the billion dollar multi-serve frozen ready meals market with an assortment of "one-pan wonder" offerings that can be prepared in under 10 minutes. Three 510-gram SKUs containing several servings per bag are now available: Cauliflower Gnocchi with Savory Pesto, Spinach Gnocchi with Tuscan-Style Marinara, and Cauliflower Penne Pomodoro.
Made in Italy and free from artificial preservatives, colors and flavors, they have less than 300 calories and feature vegetable-based pastas, cauliflower, chopped zucchini, cherry tomatoes, onions and authentic Italian sauces.
The new line, now available nationwide in Walmart freezer aisles, is promoted as "a much-needed alternative to the frozen meals currently on the market which are packed with too many calories, sodium and gluten, and lacking in vegetable servings." Distribution will be expanded to select Albertsons and Safeway stores soon, followed by listings at Hy-Vee, ShopRite and other retail chains in 2023.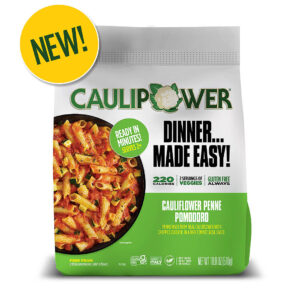 The multi-serve prepared meals category has experienced significant growth as consumer demand for convenience products has risen significantly. However, the need for truly better-for-you options has left a gap in the market. When recently asked what would make shoppers purchase frozen meals more often, 72% of those surveyed said that they are looking for products offering more fruit and vegetable ingredients. Convenience is also a major factor contributing to frozen meal demand, as 64% of consumers who buy frozen meals do so because it's faster than preparing a meal from scratch.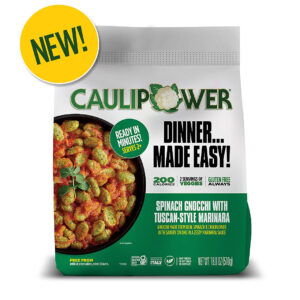 "Too many frozen meals are loaded with salt, fat and sugar, so we created our recipes for anyone who wants easy, delicious options that fit with their healthier lifestyle choices," said Gail Becker, founder of Caulipower. "We believe people should never have to choose between taste, convenience and nutrition."
In just five years, the Vegolutionary Foods brand has expanded into eight categories, spearheading innovation and delivering on its promise to provide consumers with veggie-powered versions of the food they crave that do not compromise on taste or convenience. In addition to ready meals and pizza, its products include riced cauliflower cups, cauliflower tortillas, Sweet PotaToasts, breakfast scrambles, baked chicken tenders, and cauliflower and chickpea-coated chicken nuggets.