CEC Entertainment, the parent company of the Irving, Texas-headquartered Chuck E. Cheese family entertainment center and restaurant pizza chain, is extending its reach beyond restaurants in bringing kid-friendly pizza directly to consumers' home freezers in the United States. On July 13 the brand announced a licensing partnership with Flatlander Foods to produce Chuck E. Cheese frozen pizza to be sold in Kroger supermarket outlets throughout the nation.
"We are thrilled to bring Chuck E. Cheese to the grocery aisle with a new product inspired by our famous pizza and created to be enjoyed in family homes across the country," said Melissa McLeanas, vice president in charge of global licensing, media and branded entertainment development at CEC Entertainment. "This partnership is just the beginning as we continue to grow our licensing division and extend our brand in new categories for enjoyment outside of our four walls."
Two new frozen pizzas are available in Cheese and Pepperoni varieties,  and are made with 100% mozzarella cheese. Each pack, which retails for $6.99, includes an offer for 250 free e-tickets that can be used for future visits at any participating Chuck E. Cheese outlets.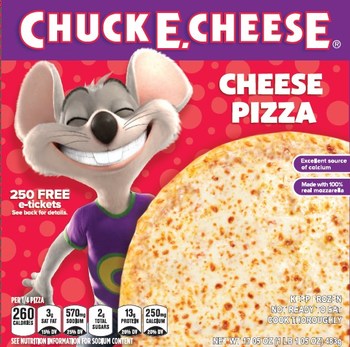 Over the last year, Chuck E. Cheese has continued to expand internationally in Latin America and Europe, and there are plans open more than a hundred new stores in the USA and beyond over the next three years. The licensing partnership with Flatlander Foods and retail sales exclusively to Kroger demonstrates the company's strategic for growth.
In addition to Chuck E. Cheese, CEC Entertainment owns the Peter Piper Pizza and, delivery only, Pasqually's Pizza & Wings brands. The chain's roots date back to 1977, when Atari co-founder Nolan Bushnell launched the concept of a family restaurant integrated with arcade games and animated entertainment in San Jose, California, known as Chuck E. Cheese's Pizza Time Theatre. Highly patronized by children and their parents ever since, the outlets are very popular venues for birthday parties and other celebrations.
Flatlander Foods specializes in the consumer packaged goods industry.  Founder and CEO Eddy Patterson is an industry veteran with over 25 years' experience in the grocery channel.