Will a frozen food product again win the grand prize in the H-E-B supermarket chain's Annual Primo Picks Quest for Texas Best contest? From now until March 18 hundreds more entries submitted from across the Lone Star State are expected to enter the competition.
In 2016 Chef Julie Albertson took top honors and was presented a $25,000 check for her "thaw, roll, bake and enjoy" Pie Dough Puck product packed by Texas Pie Company. Last year Skull and Cakebones' Mocha Marmalade vegan dessert in a jar proved to be second to none.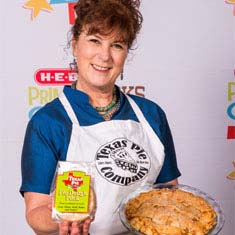 Chef Julie Albertson's award-winning frozen Pie Dough Puck bested all competitors' products in 2016."H E B was grown in Texas, and we want to support the products and creations that have their roots in our home state," said a spokesman from HEB Grocery Company, which operates more than 350 stores. "H E B is always seeking to bring the best products to customers, but no one knows Texas tastes better than Texans. So we are scouring the state to find local businesses with the best products in Texas."
More than a thousand entries are typically received and judged, of which only five win cash prizes and gain high profile on H-E-B store shelves.
Founded in 1905 and headquartered in San Antonio, H E B is the largest private employer in Texas with more than 86,000 people on the payroll. It is also one of the leading independent food retailers in the United States. After annual sales surpassed $20 billion in 2013 it was ranked as No. 15 on Forbes magazine's 2014 list of "America's Largest Private Companies."