As more consumers in the United Kingdom are apt to opt for rapid delivery services, Hackney Gelato of East London has teamed up with on-demand delivery specialist Gorillas to launch a Banana, Caramel & Roasted Pecan gelato that's being delivered to consumers in a matter of minutes after the order is placed.
Made with British milk and cream, and real bananas, the creamy gelato is rippled with salted caramel sauce and roasted pecans that will remind many consumers of nutty banoffee pie, the new product is selling for £5.75 per 500 ml container.
Founded by chefs to make ice cream for top chefs and restaurants in London, Hackney Gelato launched its retail range across the UK in 2019. By partnering with Gorillas, the company is able to quickly offer its range to customers across all of London. As it happens, North Londoners prefer Hackney Gelato's Chocolate & Hazelnut flavor while South Londoners are keen on Pistachio Almond & Lemon. Overall, the ultimate favorite for capital city consumers is Alphonso Mango Sorbetto.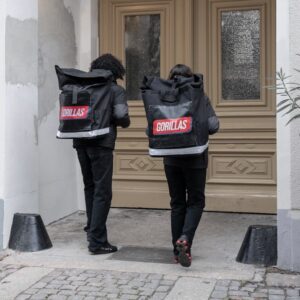 "As one of our best-selling local suppliers, we're delighted to be partnering with Hackney Gelato to create a limited edition ice cream flavor, which is launching just in time for summer," said Charlotte Macken, head of buying for Gorillas UK. "We know our customers love fruity flavors. So, with creamy banana ice cream, salted caramel sauce and roasted pecans, we expect this new gelato to be a favorite."
Enrico Pavoncelli, co-founder of Hackney Gelato, added:
"We've wanted to make a banana gelato for a long time, so we were delighted when Gorillas came to us with the same idea. With a super creamy banana base, a salted caramel ripple to bring out the toffee notes from the banana and added roasted pecans for bite and texture, we're very proud of our new creation."