Following news that the average cost of weekly grocery shopping trips has recently risen by 11.6% in the United Kingdom, the Iceland retail chain has announced a 3 for £10 deal that could see shoppers save up to a third on the total price of three main meal items.
The frozen food supermarket specialist has been cutting prices to counter the cost-of-living crisis and offering a number of initiatives to help struggling households. Assistance has included the introduction of a 10% discount for customers over the age of 60, as well as setting up the Iceland Food Club which makes short-term micro loans available to persons who are struggling to make ends meet at a time when access to credit or additional financial support is limited.
And now, Iceland has launched a bargain 3 for £10 deal in which over 200 of its most popular frozen food SKUs are included. A huge range of main meal meats are featured, with over 100 items to choose from including Iceland Beef Steak Mince (£4.25, 550g), Stuffed Chicken Breast Joint (£4.50, 525g), Luxury Half Pounder Burgers (£4.00, 454g), and many other options such as classic spaghetti bolognese and roast chicken dinners.
The deal even includes products that are popular among kids and adults alike, such as Bernard Matthews Cooked Turkey Strips (£3.50, 400g), Chiquito Habanero Chicken Wings (£3.50, 600g) and TGI Fridays Ultimate BBQ Sausage (£3.75, 360g).
Iceland's bargain offerings also include over 60 fish options, with huge variety to choose from. And the savings are even bigger, with a number of individual items' original price being £5 or just under including Iceland Atlantic Cod Fillets (£5.00, per 4-pack), Cooked Seafood Mix (£5.00, 400g) Salt & Pepper Squid Fries (£4.75, 325g).
There are a number of popular takeaway-style items included in the deal too. This includes Mexican meals, such as Chiquito Pulled Pork Burrito Bowl (£4.00, 460g) and Chiquito Spicy Chicken Enchiladas (£4.00, 550g); Japanese cuisine, with Yo! Hoisin Duck Bao Buns (£3.50, 224g) and Yo! Katsu Chicken Bao Kit (£5.00, 385g); and pizza including Chicago Town Takeaway Stuffed Crust Pepperoni Large Pizza (£4.00, 645g).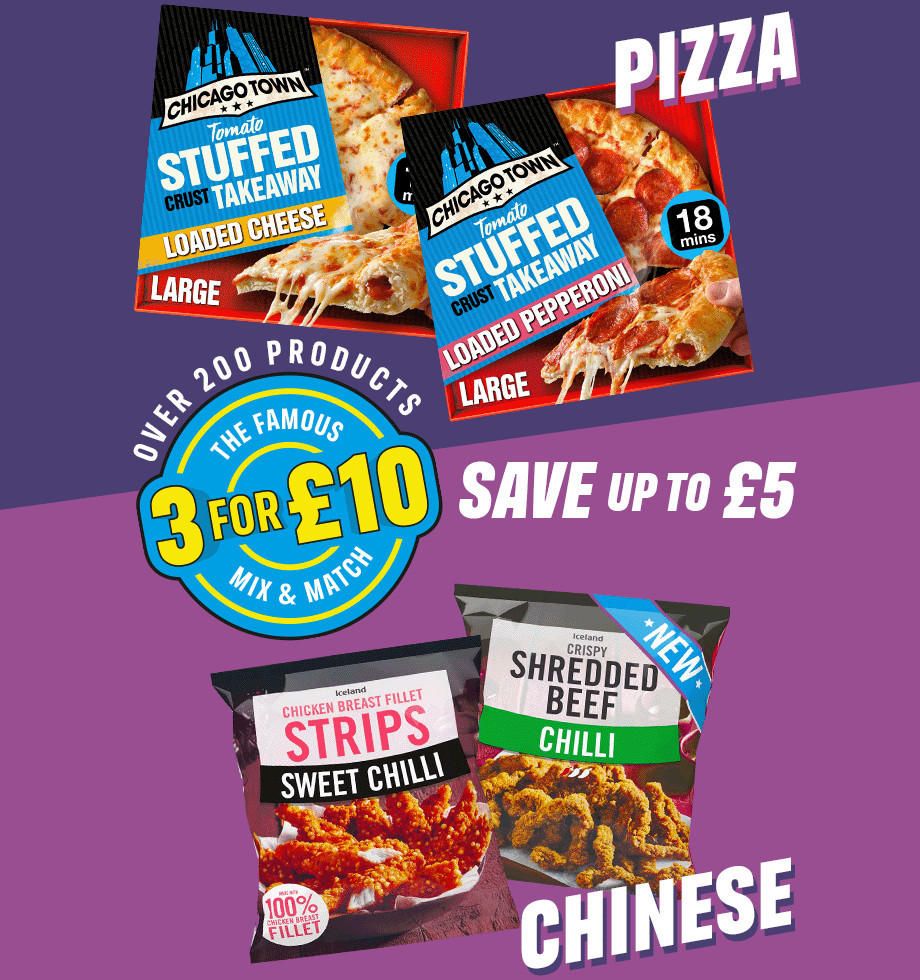 Iceland has even gone so far as to include desserts in this extensive list of products on offer, with a selection of treats such as Magnum Classic Ice Cream (£3.50, 4pk) and Magnum White Chocolate (£3.50, 4pk).
This offer comes as Iceland recently announced a partnership with energy company Utilita, which was formed to help households through what is expected to be one of the most expensive home heating winters in history. Called "Shop Smart, Cook Savvy," the first of its kind collaboration is designed to help families better understand the cost of cooking, and identify the most economical preparation methods available to make budgets stretch further.