Vevey, Switzerland-headquartered Nestlé SA is contemplating the sale of Davigel SAS, according to a report published by Reuters on February 3. Davigel, based in France, employs more than 3,000 people at three factories that produce fish dishes, value-added vegetables, meat- and poultry-based ready meals, sauces and pastry products.

Acquired by Nestlé in 1989 from Buitoni, the company is a major supplier of frozen and chilled meal solutions to restaurants as well as hospitals and healthcare institutions in France and other European countries, where more than 990 million meals from its plants are served to patients every year. In 2012 it generated turnover of EUR 783 million (more than CHF 900 million).
According to the Reuters report, the sale of Divegel could fetch approximately EUR 300 million. Potential buyers named ranged from Sodexho and Brake Brothers to the Booker Group and a number of private equity firms.
Last April Nestlé Professional, the unit that supplies the foodservice industry, announced a EUR 40 million investment to enlarge the Davigel factory in Noyal-Pontivy, France. The expansion, scheduled for completion late in 2014, will allow further development of its range of nutritionally balanced meals for hospital patients.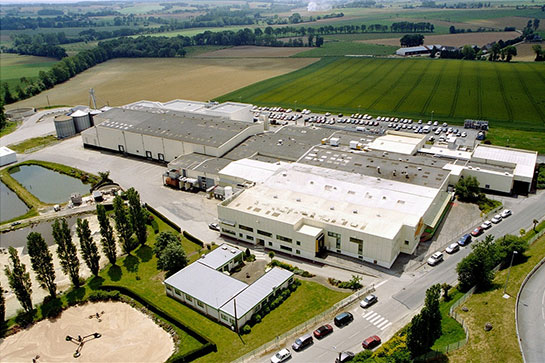 The Davigel food processing factory in Noyal-Pontivy, is one three operated by the Nestlé Professional unit in France.
"We pride ourselves on continuous innovation," said Jean-Marie Gurné, head of Nestlé Professional Business-to-Business, at the time. "Davigel already offers nearly 3,000 products and is constantly renovating its portfolio. This investment will help provide an even greater variety of high-quality, nutritional products to satisfy our customers' expectations."
In 2011 Nestlé Professional invested EUR 8 million in a Davigel training center in Dieppe to help chefs master a comprehensive set of professional skills and to better understand changes in food legislation and food safety requirements.
Meanwhile, Nestlé has divested a number of units over the past four months. On February 3 it announced the sale of its premium sports nutrition business under the PowerBar and Musashi brands to a USA-based consumer packaged goods company, Post Holdings.
Earlier this year, on January 6, the Nestlé Prepared Foods unit in the United States sold its Haverhill, Massachusetts-based Joseph's Pasta Company to JPC Acquisition Co., a portfolio company newly formed by Greenwich, Connecticut-headquartered Brynwood Partners. Joseph's holds a leading position as a manufacturer and marketer of premium frozen stuffed pasta in the foodservice segment of North America.
Last November Nestlé sold its Jenny Craig weight management business in North America and Oceania to North Castle Partners, a USA-based private equity group. The Jenny Craig business in France was not part of the transaction.