Unilever North America has introduced three new Magnum Ice Cream offerings to retail customers in the United States: Non-Dairy Sea Salt Caramel Bars, Double Pistachio Honey Tubs and Double Almond Brown Butter Tubs.
The bars feature a non-dairy sea salt caramel base coated in a cracking non-dairy Belgian chocolate shell. Master chocolatiers source cocoa beans from Rainforest Alliance Certified-farms and pair them with a creamy vanilla base made with a blend of coconut oil and pea protein, a plant-based alternative to dairy.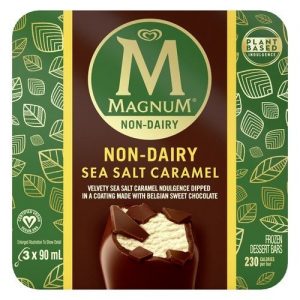 Magnum Ice Cream tubs, introduced in 2018, are promoted as the first ice cream wrapped in a chocolate shell. Featuring velvety ice cream, gooey sauce and milk chocolate shards encased in chocolate, the product is a reimagined signature Magnum chocolate ice cream bar presented in an indulgent, scoopable format. Upon squeezing the sides of the tub to break the chocolate shell, one hears that signature Magnum crack sound prior to breaking into the thick, top layer of chocolate to indulge in a rich mixture of ice cream, thick milk chocolate shards and sauce.
"We're obsessed with delivering a next-level bite," said Leslie Miller, director of marketing at Englewood Cliffs, New Jersey-headquartered Unilever North America's ice cream division. "Caramel is Magnum's most popular ice cream flavor in dairy bars and tubs, so it's exciting to bring it to market in an equally delicious Non-Dairy Bar. Our new Magnum Tubs varieties are inspired by popular 'perfect pairings' in desserts that we are thrilled to bring to ice cream."
Magnum Non-Dairy Sea Salt Caramel Bars, Magnum Double Almond Brown Butter Tubs and Magnum Double Pistachio Honey Tubs are now available at grocery stores nationwide for a suggested retail price of $4.49 to $5.99.
In addition to the three new items described above, Unilever is introducing information on its Classic Ice Cream Bars that spell out the exact cacao percentage in each product, similar to what is found on premium chocolate bars. The packaging will be rolled out this year on all Magnum Classics (three-count and six-count dairy bars).