My/Mochi Ice Cream has been named as a winner of NielsenIQ's Bases Top Breakthrough Innovations of 2021.This year marks the 10th anniversary of the award, which recognizes new products in the United States and Canada that successfully "redefine their categories" by breaking through the clutter of the marketplace, advance the state of innovation knowledge, address key consumer needs, and deliver a stand-out experience.
My/Mochi provides consumers with a sweet rice dough and creamy ice cream product line in a myriad of flavors that include Green Tea, Sweet Mango, Strawberry, Double Chocolate, Cookies and Cream, Coconut, Dulce de Leche, Guava and more. In addition to dairy-based frozen snacks, the company offers vegan and non-dairy options made with oat milk, and currently claims approximately 80% of the mochi ice cream market in the US grocery channel and a whopping 98% share in convenience stores, according to SPINS data.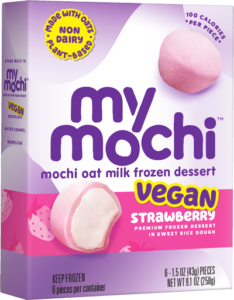 "We are honored to receive this recognition from such a prestigious organization," said CEO Craig Berger. "Inclusion on this list is a testament to our continued originality and ability to deliver fresh ideas to the freezer aisle. As we keep revolutionizing the snack industry, one focus remains at the forefront – food is joy, and we want everyone to experience it."
The Los Angeles, California-based company continues to adapt to the times and changing landscape to deliver the sweet treat to more people. Before the coronavirus (SARS-CoV-2) health crisis, shoppers in many markets could grab mochi ice cream balls directly from freezers with tongs, but once the pandemic hit hard, single-serve packaging was introduced to allow customers to safely choose their sweet treat without fear. The updated wrapping also helps reduce food waste and spoilage that can occur with loose, unpackaged mochi ice cream.
"Innovation is a core part of who we are at My/Mochi," said Managing Director and CFO Russell Barnett. "From day one, the company disrupted both the snacking and dessert industries when it launched its mochi ice cream, and in doing so, introduced the masses to a once niche confection. Since that moment, we have continued to develop new flavors, utilize different ingredients and transforming the way people enjoy ice cream they can chew. It's exciting to know that all this hard work has led to the distinguished honor of being named one of the Top Breakthrough Innovations of 2021."
There were 31 winners this year. Among other frozen products and brands saluted as winners this year are Delissio Stuffed Crust Pizza, Tyson Air Fried Chicken, Rebel Ice Cream and Talenti Gelato Layers.