Netuno USA was presented the "Best New Foodservice Product" award on March 12 for its Tambaqui Ribs at the Boston Seafood Show. which is formally known as Seafood Expo North America/Seafood Processing North America. The top prize in the retail product category went to Thunder's Catch for its Wild Salmon Chowder entry.
Tambaqui, closely related to the pacu fish (Cachama/Colossoma macropomum), is farm raised by Netuno in waters of the Amazon in the state of Rondônia, Brazil. The skin-on and bone-on IQF product is promoted as an ideal alternative for non-beef and non-chicken menu options in BBQ restaurants and fried wings specialist outlets.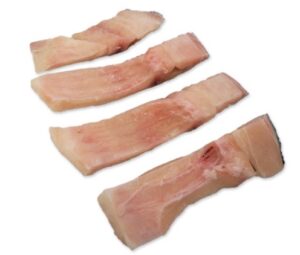 Winners Netuno and Thunder's Catch were selected from a group of finalists during a live judging by a panel of seafood buyers and industry experts from the retail and foodservice industries. Judges included Jeff Meagher, business development manager of Performance Foodservice; Al Baroudi, vice president, for QA and food safety at The Cheesecake Factory; and Douglas Varanai, meat and seafood category manager at Sprouts.
Finalists were previously selected through a screening of products participating in the Seafood Expo North America New Product Showcase. The New Product Showcase features seafood products, condiments and culinary dishes launched in the past year by exhibiting companies.
The Seafood Excellence Awards recognize the product leaders in the North American seafood market. The new products are judged based on several criteria, including uniqueness and appropriateness to the market, taste profile, market potential, convenience, nutritional value and originality.
Organized by Portland, Maine-headquartered Diversified Communications, Seafood Expo North America/Seafood Processing North America is North America's largest seafood trade event, drawing seafood professionals from around the world, including 1,141 exhibiting companies from 49 countries. The three-day show runs through March 14.