In celebration of Magic: The Gathering's 30th anniversary, Hot Pockets is teaming up with the popular card game manufacturer, Hasbro's Wizards of the Coast, to fill virtual (hot) pockets with custom in-game content. Consumers of the Nestlé brand hand-held sandwiches are invited to snap pictures of Hot Pockets receipts and submit them to the HotPockets.com/MTG for special codes, which can be redeemed for exclusive content on the digital version of Magic: The Gathering Arena.
Stackable in-game content includes a themed deck featuring Vivien on the Hunt, a new Vivien planeswalker avatar, new Vivien planeswalker card sleeves and 2,000 experience bonus for your Mastery Pass, as well as the IRL reward of the delicious flavor of Hot Pockets.
Hot Pockets is offering four different colors of special packaging to mark the anniversary. Each limited-edition box features an iconic mana color and planeswalker from the game. A breakdown of every available pairing follows.
•  White Mana/Gideon: Italian Style Meatballs & Mozzarella
•  Blue Mana/Jace: Philly Steak & Cheese
•  Red Mana/Chandra: Premium Pepperoni Pizza
•  Green Mana/Vivien: Hickory Ham & Cheddar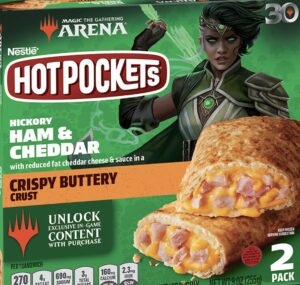 Savvy Magic: The Gathering devotees will notice one color is missing, but they should have no fear (unless they've been playing since Tenth Edition, in which case there might be a Fear lying around) – Black Mana Hot Pockets are coming soon to complete the set. Gamers are encouraged to stay vigilant for when this mysterious new box, veiled in secrecy, drops in May, exclusively at participating Walmart locations across the USA.
"Hot Pockets and gaming have gone hand-in-hand for generations, which is why it was a no-brainer to reward fans of both Magic: The Gathering and Hot Pockets," said Bryan Waddell, Brand Marketing Manager of Solon, Ohio-headquartered Hot Pockets. "We hope they enjoy the stackable in-game content that comes with this celebration – with more to come from us in May."
The custom Hot Pockets and Magic: The Gathering packaging and the opportunity for exclusive in-game content will run until June 30, 2023, with more 30th anniversary celebrations between the two brands coming up throughout the year.