Premium artisan frozen pizza and gelato are among eight new private label products that have been introduced by Eden Prairie, Minnesota, USA-headquartered SuperValu under its Culinary Circle private label line.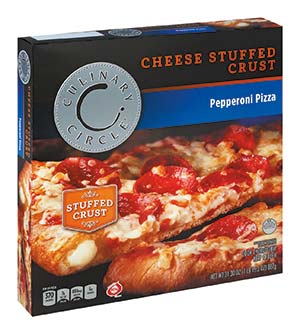 The latest pizza recipes feature a mozzarella-filled crust and choice of pepperoni or three meat (pepperoni, sausage and beef) toppings. The extensive Culinary Circle pizza range includes 28 different products in a variety of styles, flavors and crust types – from thin and flatbread to self-rising, multigrain, biscuit and the new cheese-stuffed offerings.
Targeting consumers who want to "upgrade their indulgences" are three new gelatos: Caramel Cookie Crunch, Mint Fudge and Chocolate Peanut Butter. The sweet treats feature on-trend flavors while offering a decadent, but lower-in-fat alternative to ice cream.
Also debuting are three new wing sauces for pairing with chicken tenders, shrimp, or even sautéed beef or pork cubes for a simple, quick and tasty appetizer. The flavors are: Bold & Peppery features a punch of vinegar and cayenne peppers with savory tomato and molasses; Parmesan Garlic combines Italian seasonings with robust Parmesan cheese and garlic; Asian brings together a blend of chili peppers with honey, rice wine and sesame for a sweet and spicy flavor.
"Consumers are still making time to indulge and enjoy the foods they love – including pizzas, snacks and desserts – even though they are striving to eat better," said Bekah Swan, vice president of private brands at SuperValu. "The Culinary Circle brand seeks to address consumer demand for new, premium products that offer quality ingredients and unique flavors at an affordable price."
About SuperValu

Ranked as one of the largest grocery wholesalers and retailers in the United States, SuperValu rang up sales of approximately $12 billion last year. It serves customers across the nation through a network of 2,363 stores, including 1,902 units operated by wholesale customers serviced primarily by the company's food distribution business, and 217 traditional retail grocery stores operated under five retail banners in six geographic regions.