Nightfood, Inc., the Tarrytown, New York-based company in the forefront of pioneering the nighttime snacks for better sleep category, has announced that its Pickles For Two ice cream is being featured along with a Double Cheeseburger Papadia from the Papa John's pizza restaurant chain in a gift pack promotional partnership.
Headquartered in Louisville, Kentucky, Papa John's the world's third largest pizza delivery company with more than 5,360 outlets in 48 countries and territories as of September 27, 2020.
"We're honored to have been invited by Papa John's to participate in this national promotion satisfying late-night cravings," said Nightfood CEO Sean Folkson. "We're excited to be able to introduce our Pickles For Two, and the entire Nightfood brand, to so many new consumers."
Nightfood ice cream was developed by leading sleep experts for nighttime snacking with ingredients for relaxation and better sleep. Its pints feature more protein, fiber, calcium, magnesium and zinc, and less sugar and fat, fewer calories, and a lower glycemic profile than typical ice cream offerings.
The company recently launched the Pickles For Two flavor to satisfy the two most popular pregnancy cravings: pickles and ice cream. Nightfood was named this year as the official ice cream of the American Pregnancy Association.
There are approximately 3,000,000 pregnant women in the United States at any given time, but Nightfood is not just for expectant mothers.  Over 80% of Americans snack regularly at night, resulting in an estimated 700 million-plus nighttime snack occasions weekly, and an annual spend of over $50 billion dollars on night snacks – the majority of it on options that are disruptive to sleep quality.
In addition to Pickles For Two, Nightfood ice cream comes in numerous traditional flavors, including Cold Brew Decaf, Cookies n' Dreams, Midnight Chocolate, Full Moon Vanilla, Milk & Cookie Dough, Bed and Breakfast, Cherry Eclipse, and After Dinner Mint Chip.
Papa John's Double Cheeseburger Papadia is available for a limited time. Boasting a quarter pound of seasoned beef with crispy pickles and melted cheese, it is served with the chain's popular burger dipping sauce.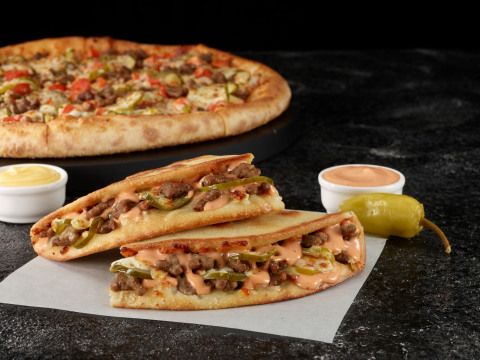 "The new Double Cheeseburger Papadia tastes like a cheeseburger wrapped in Papa John's signature pizza dough. We're confident that we can satisfy even the most discerning cheeseburger lover. Now, Americans who love cheeseburgers can enjoy the flavors they crave both in our popular pizza, as well as a Papadia version," said Tom Smith, Papa John's director of culinary innovation.
As part of the promotion, influencers and other consumers were selected to receive a custom cooler, pints of Nightfood's Pickles For Two, and a Papa John's Double Cheeseburger Papadia, delivered from their local Papa John's restaurant.
Nightfood has expanded distribution for its ice cream range into major divisions of the largest supermarket chains in the United States, including Kroger (Harris Teeter), Albertsons Companies (Jewel-Osco and Shaw's and Star Markets), and H-E-B (Central Market) as well as Lowe's Foods, Rouses Markets and other independent retailers.
Nightfood won the 2019 Product of the Year award in the ice cream category in a Kantar survey of over 40,000 consumers. It was also named Best New Ice Cream in the 2019 World Dairy Innovation Awards.