Peekaboo organic ice cream with hidden whole vegetables has been named the grand prize winner of the Real California Milk Snackcelerator dairy snack innovation competition created by the California Milk Advisory Board (CMAB) and VentureFuel. The victory provides the Miami, Florida-based company with $200,000 in resources and funding to bring a snack-sized version of its innovative products to market.
Founder and CEO Jessica Levison (pictured above) said Peekaboo is intent on solving the parental dilemma of getting children to consume more vegetables by putting them into a format they can't get enough of – ice cream. As the owner of a popular ice cream scoop shop in Miami, she turned her frozen dairy knowhow into flavorful super-premium ice creams hiding nutritious vegetable content. The products are currently available in pint size containers at select retailer stores in the USA, but Levison is looking forward to introducing the single serve snack line and expanding distribution.
"Like many of our fellow startups, we confronted what seemed like insurmountable challenges this year. This win validates our innovation, our mission and our team's hard work and resilience," said Levison. "We learned so much from this Snackcelerator experience and cannot wait to launch Peekaboo minis into the market – made with Real California Milk, of course."
Peekaboo was one of four innovators selected from a field of 16 sweet and savory semi-finalist competitors to present to a field of judges from the CPG, retail, venture capital and food science world representing such companies as Clorox, Mondelez, Whole Foods, CircleUp and others in a live pitch (and sample) event tapping into future technologies and emerging startups like OS Studios, Perksy and more to transform what was an in-person sampling experience into a state-of-the-art virtual event. Alongside three other finalists, Peekaboo was judged on uniqueness or innovation, taste, the ability to scale and the founder team. Yummy Industries came in second place with their Cheese-Bits premium snacking cheese packs and will receive $100,000 in support for growth and distribution.
The Real California Milk Snackcelerator competition was designed to inspire innovation and investment in dairy-based snack products, packaging and capacity within California by connecting manufacturers, producers, investors, ideas and entrepreneurs for high quality, sustainable products. The competition received 76 entries, which inspired expansion from the original eight finalists to 16 representing both sweet and savory snacking startups in the Sweet & Savory 16 virtual semi-finals.
"This was a tough decision, all four of these finalists presented products that fit the needs of our current consumer and each with their own unique take on snacking. Peekaboo just had a slight edge because of its unique concept marrying two things that normally don't go together like ice cream and vegetables, and then executing the product perfectly in terms of creative flavor combinations," said John Talbot, chief executive officer of the CMAB. "Not only are we excited to grow the dairy snack portfolio offered with Real California Milk by helping to expand distribution for Peekaboo ice creams, we look forward to continuing our relationship with all of our finalists and semi-finalists to see what they are able to achieve."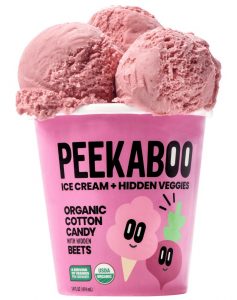 "Innovation is the ultimate growth accelerator for any business or category and this competition continues to deliver a flywheel of new ideas, new products and new ways to think about dairy from a consumer perspective," said Fred Schonenberg, chief executive officer and founder of VentureFuel. "When my family begged me for more samples between the semi-finals and finals, I knew we had chosen four winners all, of which can make an impact on-shelf. Peekaboo's Organic Cotton Candy cotton-candy with Hidden Beets flavor dominated the pre-judge chatter as one of the most delicious and unique desserts the judges had ever tasted, meanwhile Cheese-Bits was the product everyone was snacking on behind the scenes. They are making premium cheese easy to snack on and introducing new styles and flavors that will stand out."
Among other flavors in the Peekaboo range are Organic Unicorn with Hidden Zucchini, Vanilla with Hidden Zucchini, Chocolate with Hidden Cauliflower, Strawberry with Hidden Carrot, Mint Chip with Hidden Spinach, and Strawberry Sorbet with Hidden Tomato.