Rösti Stuft Spuds has announced a new roster of C-Suite management personnel and engaged a marketing agency partner to further enhance brand recognition and help expand sales across the United States. With solid experience in the consumer packaged goods space, the frozen crispy-filled shredded potato bites company's recently recruited executive team members are:
Don Graff, chief marketing officer; Tony Gianni, vice president of national retail sales; Tom Garvey, vice president-retail/club stores; Sean Mohr, vice president-foodservice/convenience; Mary DeLucco, executive creative director.
By bringing in these seasoned professionals, the Portland, Oregon-headquartered company is aiming to grow its national retail footprint and establish Rösti Stuft Spuds as a category leader in the frozen food and snack space.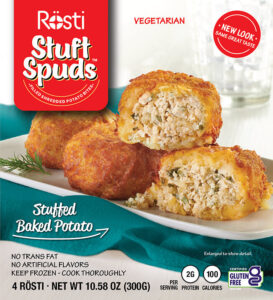 "We're beyond excited to welcome each of these individuals to our team," said Stephen Caldwell, the company's co-founder and chief executive officer. "Their combined experience in marketing and growing various brands across the CPG space will help us reach our goals while staying true to our core value of creating moments of comforting, shareable fun."
Meanwhile, Rösti Stuft Spuds has partnered with SRW Agency, a Chicago-based marketing agency known for growing brands in the natural health and wellness space. Its job is to create innovative messaging and campaigns to help distinguish the the brand in the category and drive sales.
Rösti Stuft Spuds products can be found at over 2,000 retail outlets throughout the USA, including Whole Foods Markets nationally, Target, Natural Grocers, Fresh Thyme, Central Market and several Safeway/Albertsons divisions. The vegetarian, gluten-free line is distributed in 300g packs containing four filled-shredded potato bites.
About Rösti Stuft Spuds
Established in 2017 by Stephen and Lory Caldwell with the goal of making good-for-you, filled frozen products that satisfy demand among busy consumers for convenience, flavor and premium quality. While the traditional Swiss rösti originated in Bern, Switzerland in the early 1800s as peasant food, Rösti Stuft Spuds' R&D department has focused on perfecting a tasty, hand-held version of the crispy-filled potato with a more modern sensibility.