Saffron Road, a Stamford, Connecticut, USA-based producer of frozen entrées as well as shelf stable meals, simmer sauces and plant-based protein snacks, is adding three more Artisan Wraps to its portfolio that will hit retail stores in October. The Bean & Cheese, Samosa with Chickpeas, and Butter Chicken Wraps combine an ancient flatbread recipe from the Mediterranean with quality whole ingredients, spices and flavors of South Asia.
The wraps are packed with whole plant-based proteins like chickpeas and black-eyed beans or antibiotic-free chicken, accented with spices to reflect the culinary heritage of India, yet with a notable twist of being gently folded into traditional tandoor-baked Lavash wraps more typically seen in the Mediterranean, Middle East or Caucasus region between the Black Sea and Caspian Sea.
A new report from Murphy Research suggests that a busy return-to-school and return-to-office schedule in the United States this fall will accelerate consumer interest in nutritional, better-for-you options and quick and portable premium meals for eating on-the-go. Recent Acosta and IRI research also suggests that 75% of millennial consumers in the USA are looking for convenient and better-for-you frozen options, while 60% indicate they plan to take a frozen meal for lunch or to eat at home.
Moreover, today's consumers are increasingly tapping into a more holistic approach to eating. They are aware of the effect ingredients have on their bodies and are weighing overall wellness by looking for functional whole proteins like legumes or antibiotic-free meats, while still seek inspiration, variety and creative blends of comfort and appealing flavors from around the world to fulfill their wanderlust.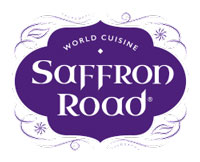 "We are entering a new phase of the coronavirus pandemic, and while many meals remain at-home, consumers across the country are juggling busy schedules, carving out a need for quick, satisfying, and healthy innovations for the on-the-go consumer," said Chef John Umlauf, Saffron Road's senior vice president of culinary operations. "Our new Artisan Wraps are easy to prepare, and made with clean, traditional ingredients that make it simple for consumers to enjoy restaurant-quality global cuisine, even during the hustle."
All three Artisan Wraps will be available at select Kroger stores nationwide at a suggested retail price of 3.29. Following are details of each offering:
• Bean & Cheese Artisan Wrap: Packing 14 grams of whole, plant-based protein, this vegetarian option features tender black eyed beans simmered with tomatoes, Indian spices and a swirl of Jack cheese.
• Samosa with Chickpeas Artisan Wrap: This new vegan innovation is Saffron Road's twist on the classic samosa recipe, with potatoes, chickpeas, peas, and well-simmered tomatoes in a rich Indian spice blend.
• Butter Chicken Artisan Wrap: Tender, antibiotic-free, white meat chicken is simmered with an indulgent blend of tomatoes, cream, butter, and Indian masala spices to complete this flavorful comfort food offering.