Having a fully integrated french fry line ensures all the machines work together cohesively, which eases implementation, installation and start-up, while also improving line performance.
One of the main benefits of acquiring a turnkey processing line is dealing with a single equipment manufacturer and partner, who carries full responsibility for all the steps and processes of such a project, from cleaning and cutting potatoes, up to packaging the frozen fries.
IIoT Integration
Among the most important areas of innovation that is being adopted in the potato processing industry is the integration of line equipment and other devices, powered by Industry 4.0 methodologies, within an Industrial Internet of Things (IIoT) environment. Driven by the desire to optimize operations and improve efficiencies, processors want to collect more information about their products and their processes and use data analytics to discover new insights that were not accessible before. 
According to equipment manufacturer Key Technology, french fry processors look to them to provide complete integrated solutions for various parts of their lines. At receiving, that turnkey module can be anchored with the company's Oculus digital sorter for whole potatoes. Between cutting and blanching, Key often provides turnkey systems that include one or more VERYX digital sorters and an ADR automatic defect removal system, along with the shakers that tie them together.  
"We integrate our systems with decking, flumes, and/or mechanical cutters, depending on each customer's requirements. This integration helps ensure seamless equipment transfers and minimizes the need to manage this area of the plant design. Beyond a good layout that ensures maximum system effectiveness, customers typically look for a system that is easy to access for cleaning, provides good clearance for maintenance and minimizes product damage and loss through good equipment-to-equipment transfers," said Jim Ruff, vice president, process systems and integrated solutions. 
He continued: "At Key, we're leading this data revolution in the potato processing industry. Our Key Discovery suite of software solutions turns a Key sorter into an IIoT-connected device that collects, analyzes, and shares data while sorting products. It harnesses data about the sorting process and about every object flowing through the sorter to reveal patterns and trends that improve sorting and help control upstream and downstream processes. Discovery provides actionable information that enables potato processors to optimize product quality, maximize yield, reduce downtime and minimize labor to increase profitability."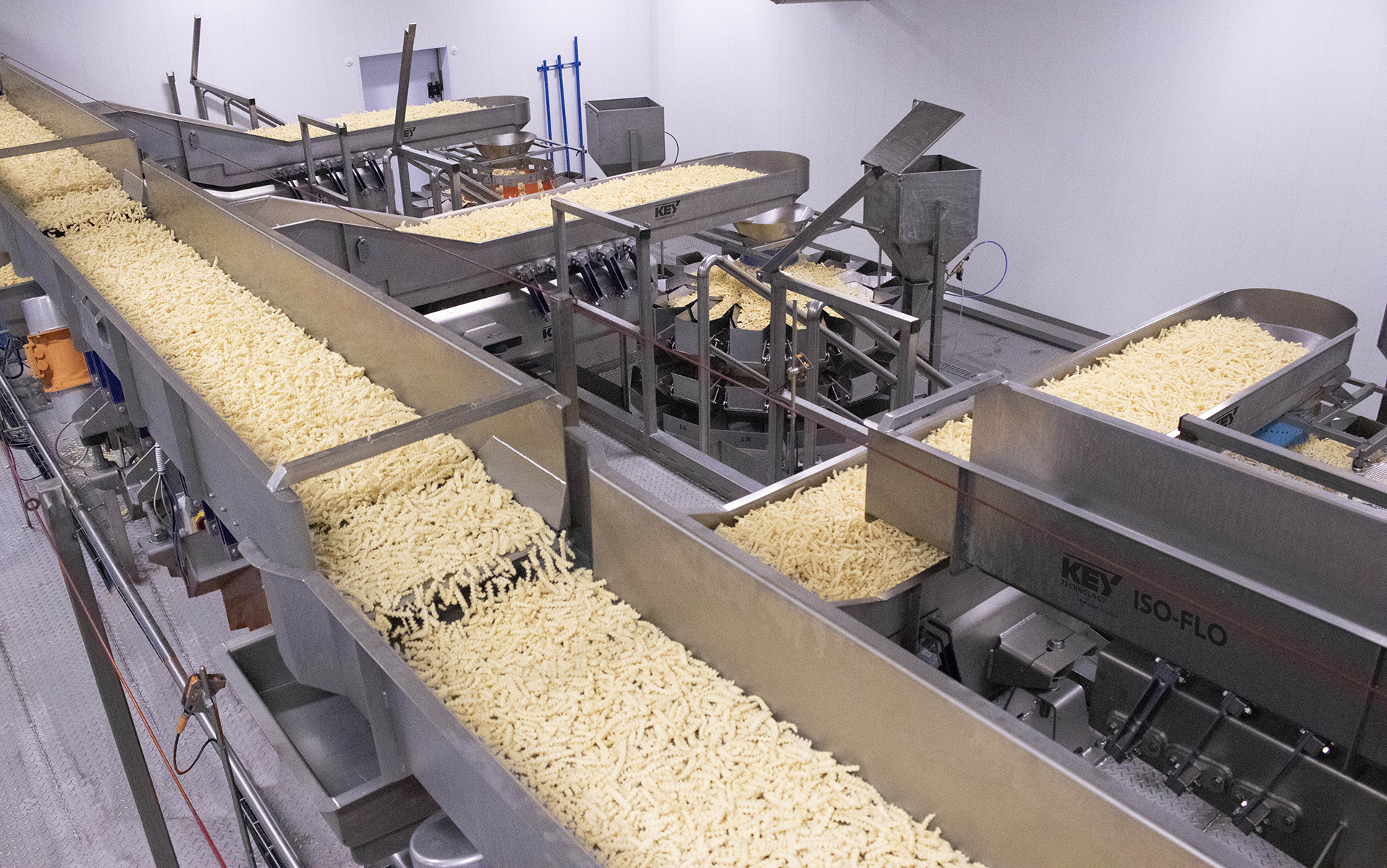 Integrated French fry processing lines are highly complex and these turnkey projects often involve large-scale operations that can be complicated to navigate. The coronavirus (SARS-CoV-2) pandemic added to the challenge by making travel difficult. Nonetheless, Key Technology's VP says the company is perfectly positioned to delive as its expertise in the potato processing industry provides the depth and breadth to design the ideal line for each unique customer. 
The global network of Key personnel and Duravant's SupportPro service organization, along with its many local partners, means the company already has people on the ground near customers around the world. Additionally, Key's virtual demonstration capabilities have been invaluable this year, as the company offers virtual demos, application tests and training via a live video interface from their Innovation and Solutions Centers in Walla Walla, Washington, USA, and Hasselt, Belgium to give customers a rich and immersive experience that is both cost-effective and productive. When starting up a new line and throughout the life cycle, Key's remote connectivity, monitoring, diagnostic, and control capabilities, which include smart eyewear and other remote access technologies, augment their traditional in-person services.  
Lessons Learned from the Pandemic
Equipment manufacturers for turnkey frozen french fry lines agree that installation and commissioning have been a significant challenge due to travel restrictions. Even during normal times, managing, planning, and executing projects such as a french Fry line (which incorporates various processes, resources, and systems) is a complex project. Where local installation teams have proven unachievable due to factors outside their control, equipment manufacturers invested in improved communication technologies, remote monitoring, and support, to allow them to continue the installations and handovers. 
Moreover, the pandemic has forced everyone to become agile in business and explore new solutions for providing superior service. Effective communication has been the key to success, both regarding customers, and internally throughout global organizations. Video conferencing, data sharing, and remote monitoring have allowed manufacturers to stay connected to customers and most aspects of these changes will stay with all these companies, as they emerge post-pandemic, given the many business benefits they provide.
"We have noticed a shift in consumer expectation for greater choice, better quality, and healthier alternatives. French fry manufacturers are demanding improved yield, efficiency, sustainability and safety, and space-saving solutions. Heat and Control regularly invest in technology and innovation that enhances the cooking processes of potatoes," according to a spokesperson from equipment producer Heat and Control. "One such example is the E-FLO Electroporation System that applies Pulsed Electric Field processing to potatoes before processing, to reduce acrylamide. In addition to the benefit of reduced acrylamide, the E-FLO Electroporation System offers improved yield, product quality, increased line efficiency, and reduced operational costs. Our KleenHeat Heat Exchanger is another example of a product developed to provide energy efficiency and pollution control. It is both efficient and sustainable and exceeds the thermal efficiency of an ordinary heat exchanger and reduces overall energy use."
Food processors choosing to install a complete line enjoy the following benefits: end-to-end installation and line commissioning including hands-on operator and maintenance training; locally based manufacture with full engineering, design, and food technologist input; access to a global pool of engineers, trade persons, and service teams for ongoing support, service, and parts; an ideal solution for customers that don't have the time and/or in-house expertise to self-manage complex projects.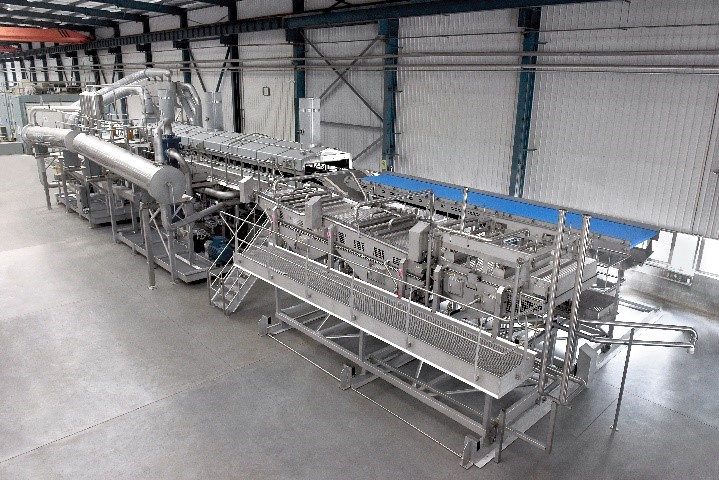 "At Heat and Control, we understand that no two installations are the same — our fryers are custom designed to suit each customer's specific cook times, product throughput, and temperature profiles, and we understand that ensuring a quality product starts well before the fryer. Cutting, washing, dewatering, and other pre-treatments all have a significant effect on the product exiting the fryer and by choosing a turnkey line, a customer is assured of a fully optimized, end-to-end solution," said the company's spokespeson. "Our dedicated R&D teams and test facilities are positioned globally to help bring ideas to life. From creating new processes to refining equipment to fit specific needs, we constantly strive to improve the quality and performance of our product offering. Our innovative new range of French fry equipment is designed to meet the need for production flexibility, covering a huge range of production throughputs, with complete control of zone flows and minimizing oil volume as key features. Reliability, minimum operator intervention, and highly effective CIP systems help control operating costs and maximize production." 
Lower Running Costs
These are demands naturally driven by dedicated processors wishing to improve and develop. As such, equipment producers are constantly being pushed and inspired to keep on developing solutions that offer better performance and better quality. As processing lines get larger, the need for strong, long-lasting machine design is even more important. Clients also expect machines offering better solutions for cleaning, maintenance, and operating costs. Therefore, companies that manufacture turnkey lines for French fries continue to focus on smarter cleaning solutions, as well as on the lowest possible oil volume in frying systems, to keep costs reduced for frozen french fry manufacturers. 
"During the recent year, we have completed a full review of the drying system used in french Fries processing lines. The technical team has studied the drying technology in depth. This has given us the chance to implement a more hygienic design easier to keep clean for our clients. Positioning of fans and heat exchangers are optimized for efficiency," explained Stefan Björk, managing director of Swedish equipment manufacturer Rosenqvists Food Technologies. "We are aware that processing requires a lot of energy and everything we can do to recover energy and utilize it in the process is a win for our clients as well as the environment. Capturing up to 85% of the heat generated in the frying systems to produce hot water is now possible with the right heat recovery system. This hot water can be used to run the drying system, blanchers, used for cleaning, heating the air intake to the factory, or for other purposes. We are pleased to offer significant savings in energy consumption for our clients and we strongly believe that we will see more smart investment in greener technology in the future."
The company has also recently launched the R-CONNECT online platform, which allows Rosenqvists to facilitate communication with clients and leads. With this platform, process engineers and project leaders can follow the remote implementation of turnkey lines live and assist with the right questions, testing, and settings for all systems. The R-CONNECT also permits Rosenqvists to troubleshoot and upgrade programming, test crucial sensors, change settings for motors, and adjust temperature profiles in its french fry systems, according to the company's managing director. 
"If we can keep improving processing technology lowering cost, improving sustainability and food safety, we think Rosenqvists Food Technologies can be one of the most relevant suppliers of technology in the future," Björk said. 
Remaining in the segment of energy and costs reduction, efforts made by R&D teams of equipment manufacturers have resulted in improved ways to develop progressive innovations in the field of energy reduction, with as close to zero emissions as possible. One such example is Dutch equipment producer Tummers, which, in the case of a complete French Fry production line, carries out the washing, peeling, and cutting machinery, while their first-class suppliers will deliver blanching, drying, freezing, and packaging equipment.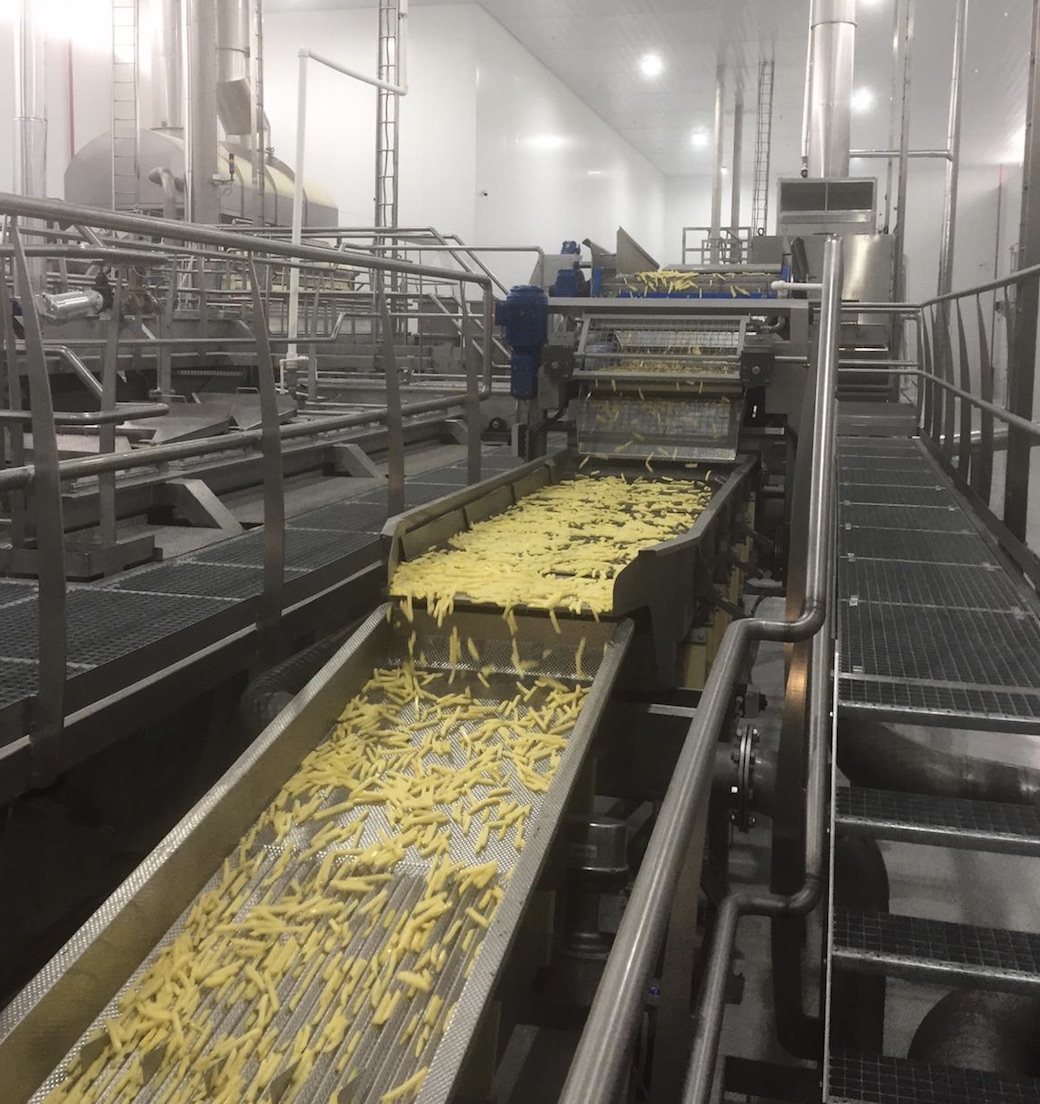 The Industry Expects Growth, Despite Adversity
The french fry industry has grown exponentially in recent years, but restrictions and lockdowns have disrupted supply chains and will continue to pose challenges for manufactures. Moving outward of the consolidated European and North American markets into Latin America and Asia, frozen French fry lines are expanding significantly in countries such as Russia and Brazil, among others. More than ever, investing in processing efficiency through optimization and reducing wastage of raw materials and energy, will set up key players for the future. The fast-paced recovery of developing economies has resulted in increased disposable incomes which will support market demand for french fries over the next decade. Global markets have matured, and market leaders are expanding into international regions and establishing local manufacturing facilities which in turn drives equipment demand and local investment in building infrastructure and creates local jobs. 
Last but not least, equipment manufacturers expect to see even more automation and fewer line operators, more connectivity of IIoT devices for better line control, and the collection and analysis of more data that can be harnessed to enhance operating efficiencies. Finally, they expect to see more intelligent systems through the increased application of artificial intelligence (AI) and machine learning techniques, such as the evolution of equipment that monitors its own performance and health. Overall, these initiatives are moving the industry closer to the concept of a lights-out factory environment. — Reported by Dan Orehov