Despite the ongoing impact of the deepest recession in modern times – or perhaps because of it, as frugal consumers tend to dine more at home than in restaurants – frozen food retail sales in the United Kingdom continue to climb. According to the latest numbers crunched by Kantar Worldpanel, the market rose 2.5% in value to £5.7 billion during the 52-week period that ended on December 8, 2013.
The latest report compares with a higher 5.8% gain in value and a 1.6% advance in volume during previous year figures for the 52-week timeframe that ended on November 25, 2012. Still, Brian Young, director-general of the British Frozen Food Federation (BFFF), welcomed news of the smaller percentage uptick.
"It is important to notice that these statistics are set against a backdrop of a struggling retail sector and tough economic environment," he commented. "The fact that frozen food has seen any growth at all is testament to the commitment shown by brands and retailers to expanding frozen new product development."
Among product categories scoring sales gains in the frozen food aisle, ice cream advanced 3.4% in volume and 6.8% in value to £830 million, while potato product value increased by 10%. Though frozen vegetable volume edged up just 1.1%, value climbed 5.1%. Frozen meat and poultry gains were 5% and 2.8%, respectively.
The ready meals segment, however, apparently remains in a recovery phase following the scandal that erupted early last year over the infiltration of undeclared horsemeat into a number of meat-based frozen foods including popular beef lasagna dishes.
"A drop in both volume and value in the ready meals sector shows that consumers have lost confidence in processed meats. It is vital that brands, manufacturers and retailers now start to reposition this sector and regain consumers' trust in processed foods," said Young.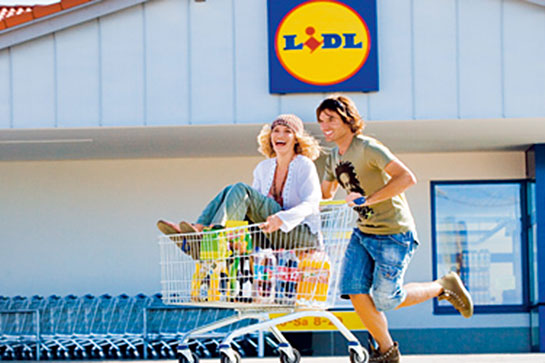 With Lidl sales rolling along nicely in Britain, the discount retail chain aims to expand from 600 stores to upwards of 1,500 units in the years ahead. Privately-owned by the Schwarz Group, the company is reportedly averaging annual sales growth of 18%.
Meanwhile, as the recession lingers on, deep-discount retail food stores continue to make gains at the expense of Britain's long-established major multiples. The latest United Kingdom grocery share figures from Kantar Worldpanel, published on January 14 for the 12-week period that ended on January 5, 2014, show Aldi, Lidl and Waitrose recording strong growth over the Christmas period. The online, convenience and premium sectors also performed well.
Edward Garner, director at Kantar Worldpanel, commented: "Among the big four, only Sainsbury's was able to resist the relentless pressure from the discounters and Waitrose. Now catching up with Asda, it managed to hold share and out-perform the market with year-on-year growth of 3.1%.
"Morrisons suffered the most among the major supermarkets with its share dropping from 12.0% last year to 11.5% now, and a decline in overall sales of 1.0%. The absence of an online offering is a major factor in its decline with total Internet grocery sales over the Christmas / New Year period growing at 22%, as 15% of British households placed orders. However, the retailer has now begun deliveries via Ocado in the Midlands, which might help it return to growth."
Local convenience shopping is another fast growing sector, with both Tesco Express and Sainsbury's Local enjoying double-digit growth. Alongside this, the cooperative registered modest sales growth of 0.4%, and independents kept pace with the total market growth and held share. There was also strong sales growth from Farmfoods of over 40%, albeit from a low base.
Even as the unemployment rate in the UK hovers at over 7%, pressure on household budgets may be lessening slightly. The Kantar Worldpanel measure of grocery price inflation fell from 3% to 2.5% during the latest measuring period, marking the lowest level since October 2012.
Perhaps increased shopping at price-cutting food chains has something to do with this. As of last December, for the first time ever, more than half of all UK shoppers were buying their food at either an Aldi or Lidl shop. In measuring shopping preferences for the 12-week period that ended on December 8, Kantar Worldpanel found 50.1% of all British households stepped into a discount retailer compared to 46.1% the year before.
Chris Longbottom, a director at the market research, information and consultancy group, commented: "Both Aldi and Lidl have continued to record double-digit growth and are successfully broadening their shopper base. Aldi now boasts a record 4.0% of the grocery market having increased its share for nearly every 12-week period since the end of 2010. Lidl retains its record share of 3.1%, which it reached during the summer.
Value continues to be a powerful incentive for the British shopper, a fact that is further highlighted by Farmfoods, which, while still a relatively small player in the market, has grown its sales by 36.6% compared with last year. At the other end of the market Waitrose has performed strongly with 6.7% growth."
Elsewhere, all of the big four grocers and The Co-Operative lost market share during the period that ended on December 8. Among this group, the best performer continued to be Sainsbury's, although the year-on-year growth of 1.8% was insufficient to match the market growth of 2.8%. Tesco accounted for 29.9% of sales in the period, Asda 16.9%, Sainsbury's 16.8% and Morrisons 11.6%.