Woolworths Supermarkets in Australia has launched Cheeseburger Spring Rolls and Bolognese Arancini in 240-gram six-packs and eight-packs, respectively. The frozen private label snack products retail for $5 each.
According to a September 9 post at the Glam Adelaide website by Lucy Brewer, while Woolworths heralds the spring rolls as a unique twist on an old party favorite, "essentially it's a cheeseburger wrapped in pastry" featuring crispy rolls filled with beef mince, cheese, pickles, ketchup and a tangy mustard sauce.
The Bolognese Arancini offering serves up crumbed arancini balls filled with a beef Bolognese and parmesan cheese, wrapped in a layer of arborio rice.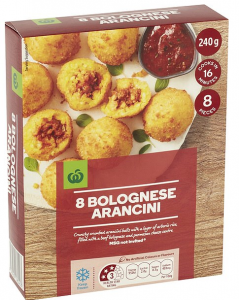 There's something new for vegetarian as well as flexetarian consumers too, as Woolworths has introduced Pumpkin and Harissa Bites filled with chickpeas, sweet pumpkin and harissa spice. A pack of eight also sells for $5.