By John Saulnier, FFB Editorial Director
As the old marketing maxim goes, "Sell the sizzle, not the steak!" That' exactly what the growing movement promoting plant-based foods is doing, and with increasing success as some of the biggest global food marketing companies in both the foodservice and retail sectors are entering the "green scene" in a deliberate way with rising expectations.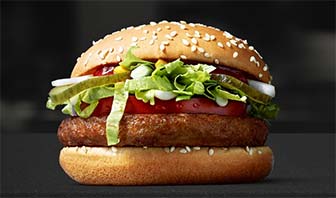 McDonald's Restaurants just announced that it will roll out a McVegan Burger in Finland and Sweden on December 28, following successful test marketing results during October and November. It features a 100% soy patty accented with egg-free vegan McFeast sauce, ketchup, mustard, tomato, lettuce, onion and pickle slices on a Quarter Pounder sesame seed bun.
Orkla Foods Sweden is supplying the soy-based burgers through its Anamma unit. Over the past several years demand for such products, made in Simrishamn and Eslöv, has increased steadily among consumers intent on eating less meat or abstaining from animal protein altogether.
High-Tech Goes Plant-Forward
The Austin, Texas-headquartered Whole Foods Market chain, acquired in June by online commerce giant Amazon, recently listed "High-Tech Goes Plant-Forward" among the Top 10 food trends for 2018.
"By using science to advance recipes and manipulate plant-based ingredients and proteins, these techniques are creating mind-bending alternatives like 'bleeding' vegan burgers or sushi-grade 'not-tuna' made from tomatoes," the retailer informed customers in a recent statement. "These new production techniques are also bringing some new varieties of nut milks and yogurts made from pili nuts, peas, bananas, macadamia nuts and pecans. Dairy-free indulgences like vegan frosting, brownies, ice cream, brioche and crème brûlée are getting so delicious, non-vegans won't know the difference – or they might choose them anyway!"
So it comes as no surprise that Whole Foods is preparing for anticipated rising demand by wholeheartedly stocking products such as Cado avocado ice cream and Beyond Meat offerings. In early December El Segundo, California-based Beyond Meat announced that its meatless burgers are available in more than 5,000 retail store locations across the USA, including Whole Foods outlets. That's in addition to the 3,700 restaurants, hotels, college dining halls, and other foodservice outlets nationwide serving up the faux meat option.
The Beyond Burger is promoted as "the world's only burger that looks, cooks, and tastes like ground beef from cows but is made entirely from plants, without GMOs, soy or gluten." It packs more protein and iron than beef and is a cholesterol-free food, with less saturated fat than beef. A 100% vegan quarter-pound Beyond Burger sold in grocery stores has 4 grams of saturated fat and 22 grams of total fat, compared to an 80/20 beef burger's 9 grams of saturated fat and 23 grams of total fat.
The company also markets frozen Beast Burger and Beastly Slider twin-packs and a variety of frozen pack offerings of faux meat components for use in making pasta and lasagna dishes as well as soups, fajitas, tacos, wraps and salads. Among them are gluten- and soy-free Beyond Beef Crumbles, featuring 13 grams of protein and three grams of fat per 55-gram serving; and Beyond Chicken Strips Southwest Style, grilled with a chipotle-lime blend and containing 20 grams of protein and 120 calories per three-ounce serving.
Springdale, Arkansas-headquartered Tyson Foods, the USA's largest meat company, recently increased its stake in the producer of plant-based protein made from peas, soy, beet juice and other ingredients. While the amount of the investment in Beyond Meat was not disclosed, it is part of a $55 fundraising round generated by venture capital firm Cleveland Avenue LLC to help the company triple production capacity, increase R&D, expand its portfolio and extend distribution.
Other investors in the promising entrepreneurial company include Bill Gates, actor and environmental activist Leonardo DiCaprio, Twitter co-founders Biz Stone and Evan Williams, Kleiner Perkins, former McDonald's CEO Don Thompson, Honest Tea founder Seth Goldman, and the Humane Society of the United States.