In a unique collaboration between luxury ice cream maker Häagen-Dazs and world-renowned pastry chef Pierre Hermé (pictured above), a new macaron ice cream range of "Häagen-Dazs X Pierre Hermé" Double Chocolate Ganache, Strawberry & Raspberry, and Yuzu & Lemon flavors is now hitting retail markets in the United Kingdom and France. A wider launch across Europe, Asia, Latin America and the Middle East is set for the spring and summer.
"The collaboration with Chef Hermé is a perfect way of showcasing the true craftsmanship of our brands. We are both passionate about innovating and re-interpreting classic favorites and creating extraordinary experiences for our consumers. And what better way to do that than with a pure French 'amour' taste experience. Don't hold back is what we embody in everything we do and here we epitomize that with our macaron collaboration bringing alive Paris in a pint," said Manuel Garabato, global brand director at Häagen-Dazs.
The result is the story of ice cream and macaron with Parisian flair. Crunchy chewy mini macaron shells are added to the creamy ice cream, bringing the perfect balance of Häagen-Dazs flavor with Pierre Hermé macaron's signature almond flavor.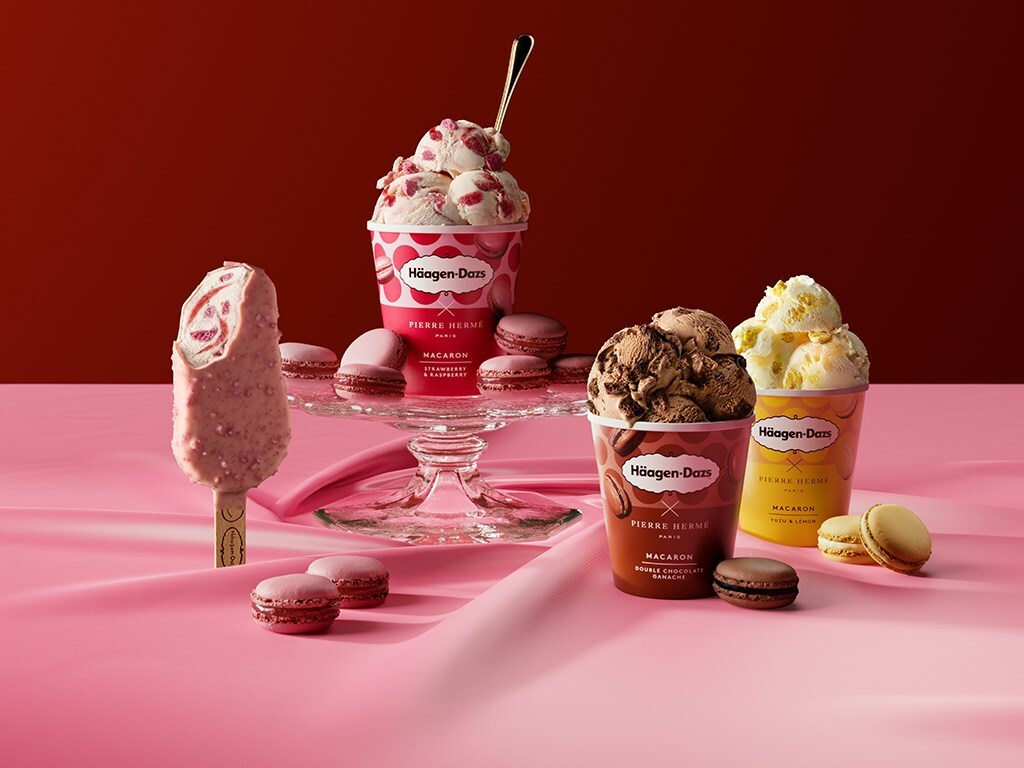 "I am very excited and proud of our new collaboration. For the past twenty years, I have constantly been creating and reinterpreting my macaron recipes, which is my favorite creative terrain. My macarons are my identity so to put them in an ice cream I needed to work with the very best. Häagen-Dazs is just as passionate as me when it comes to, quality, taste and crafting things in a new way so collaboration was established from the first bite," said Hermé .
Having earned the nickname "Picasso of Pastry" by Vogue magazine, Hermé is a descendant of four generations of bakers and pastry chefs from Alsace. With a reputation for bringing flavor and modernity to pâtisserie stretches across France, Japan and the United States, his creative approach to the pastry chef profession has led him to revolutionize even the most set-in-stone traditions, making him into an iconic figure in French gastronomy.
Founded in 1997, Pierre Hermé Paris, the luxury "Haute Pâtisserie" company opened its first store in Tokyo in 1998, followed in 2001 by the Parisian patisserie at 72 rue Bonaparte. He was named the World's Best Pastry Chef by the World's 50 Best Restaurants Academy in 2016.
Häagen-Dazs, founded by Reuben and Rose Mattus in New York City during 1960, is today a unit of Minneapolis, Minnesota, USA-headquartered General Mills Inc. From an initial product range of three flavors – chocolate, vanilla and coffee – today the company offers more than 24 products, including pint tubs, mini cups, and stick bars. Distribution is through major supermarkets, convenience stores, foodservice channels and Häagen-Dazs Shops in many countries around the world.