With growth in the retail frozen pizza market expected to steadily continue in the years ahead, staying on top of toppings in terms of both trending ingredients and product quality is uppermost among the sector's R&D specialists and production managers alike.
Vegetables, mushrooms and herbal toppings on frozen pizzas are grown and harvested on farms, where nature brings its own variables and unpredictability. As crops are picked, foreign materials such as sticks, stones, glass and plastics sometimes get mixed in with the harvest. While farmers and suppliers implement safety checks before sending ingredients to further processors, additional screening is necessary to eliminate unwanted foreign materials from the supply chain. These safety inspections utilize highly advanced sorting technologies to enhance product safety.
After almost a decade of proving its worth in the production of Nestlé's frozen pizza offerings, continuous improvement in sensor-based smart sorting technology from Tomra has been a driving force at the multinational company's manufacturing sites in Europe and North America where popular retail brands including Wagner, DiGiorno, Jack's and Tombstone are packed.
In 2014 at Nestlé's factory in Nonnweiler, Germany, a number of manufacturers of sorting equipment were invited to demonstrate their machines' capabilities by running product samples for a couple of weeks. After extensive testing, research and validation, it was decided that SmartSort technology from Tomra Food best met the stringent requirements of Nestlé operations.
"Tomra stood out with its ability to identify good product and not only remove the defects," said Will Hutson, quality manager at Nestlé R&D. "The other machines had a longer material setup process, and could only identify defects. With Nimbus, we could train the machine which imperfections to reject while also teaching it what desirable product looked like."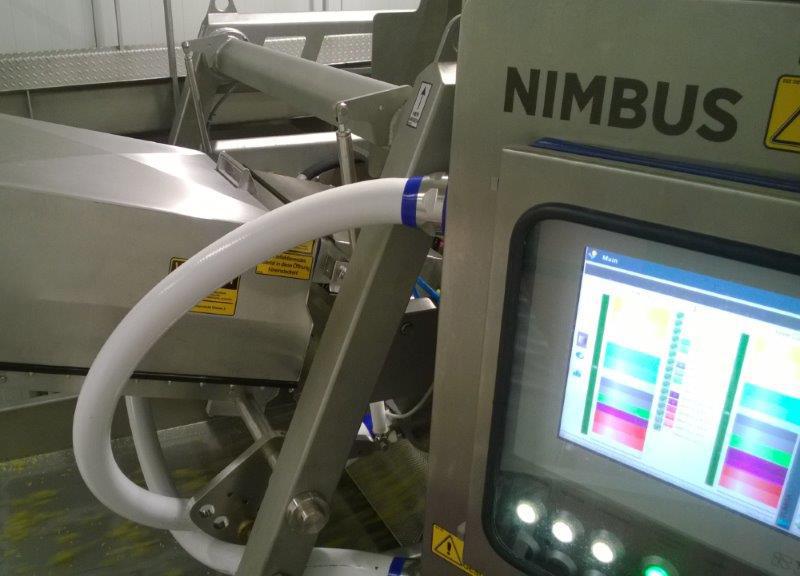 Optical Sorting Vital for Product Safety
The quality check process involves taking raw material out of totes or cases, putting it through a series of inspections, and then putting it back in totes after affirming safety and visual desirability. The first two examinations see pizza topping ingredients pass through a bulk X-ray machine and then go over a magnet to assure the remove of any remaining metals. The final check sees desirable materials travel through the Tomra optical sorter before being returned to the totes.
"One of the key strategic advantages of this technology is the ability to segregate material defects across an entire batch, and use this data as an input to supplier performance. The ability to partner with your suppliers and provide this type of feedback drives the continuous improvement cycle, ultimately increasing overall consumer satisfaction," said Adam Weber, Nestlé R&D's senior expert supplier for quality management.
Food trends continually change and with this the ability of an operation's capacity to adapt quickly is important. Being agile and evolving to meet customers' desires for higher-quality products is essential. Employing Tomra sorters has positively impacted Nestlé's procedure, adding an invaluable point in the process to reduce the risk of foreign matter ending up in the final product.
With the Tomra Nimbus sorting machine, Nestlé processes around 15 million pounds of raw material per year and up to 95,000 pounds in a one-shift operation at its production plant in Solon, Ohio. From there, toppings are distributed to three other factories around the United States. The machine's robust capabilities enable production lines to continue running the highest volumes while also rendering data that allows them to notify suppliers of product quality trends earlier in the supply chain.
"Based on our previous equipment testing and the growing relationship, Nestlé trusted Tomra's experience and equipment and remains confident in our partnership," said Huston. "The equipment's quality and reliability minimized the need for support or interaction. After the initial commissioning and training by Tomra, the local team has been able to operate the unit independently. They've barely had to interact with it, except to change a program or recipe to accommodate the different incoming frozen veggies being screened, and that speaks volumes."
Tomra Food is division of the Asker, Norway-headquartered Tomra Group. The company's sorting, grading, peeling and analytical machinery has been installed at more than 13,800 lines operated by food processors around the world.