Of all the threats to food safety found on processing lines, toxic weeds are among the hardest to deal with. When poisonous datura or nightshade plants get mixed with green vegetables, the weeds are so similar in color to the edible product that they are difficult to detect. This is especially true of green beans and baby leaf spinach — and after the beans are blanched for freezing, or the spinach is cut, datura becomes even more difficult to identify and reject.
This has always been a challenge for processors, and now changes in farming methods are making the problem more widespread. Increasing consumer demand for organically-grown crops, plus tightening limitations on pesticide use, are resulting in weeds becoming more prevalent. And this will likely only get worse as global sales of organic foods are expected to increase in annual value between now and 2030 at an extraordinary compound annual growth rate of 10% to 13%.
Supermarket and grocery store marketers of frozen and non-frozen vegetables are concerned about this. If consumers find their food products contain poisonous foreign materials, big brands could face expensive compensation claims and possibly even costlier damage to reputation. This means that retailers expect food processors to take all necessary steps to eliminate these risks.
The good news is that state-of-the-art industrial sorting machines provide highly effective solutions. One type of sorting technology in particular possesses detection capabilities that only a few years ago were unheard of. It is available from Leuven, Belgium-based Tomra Food.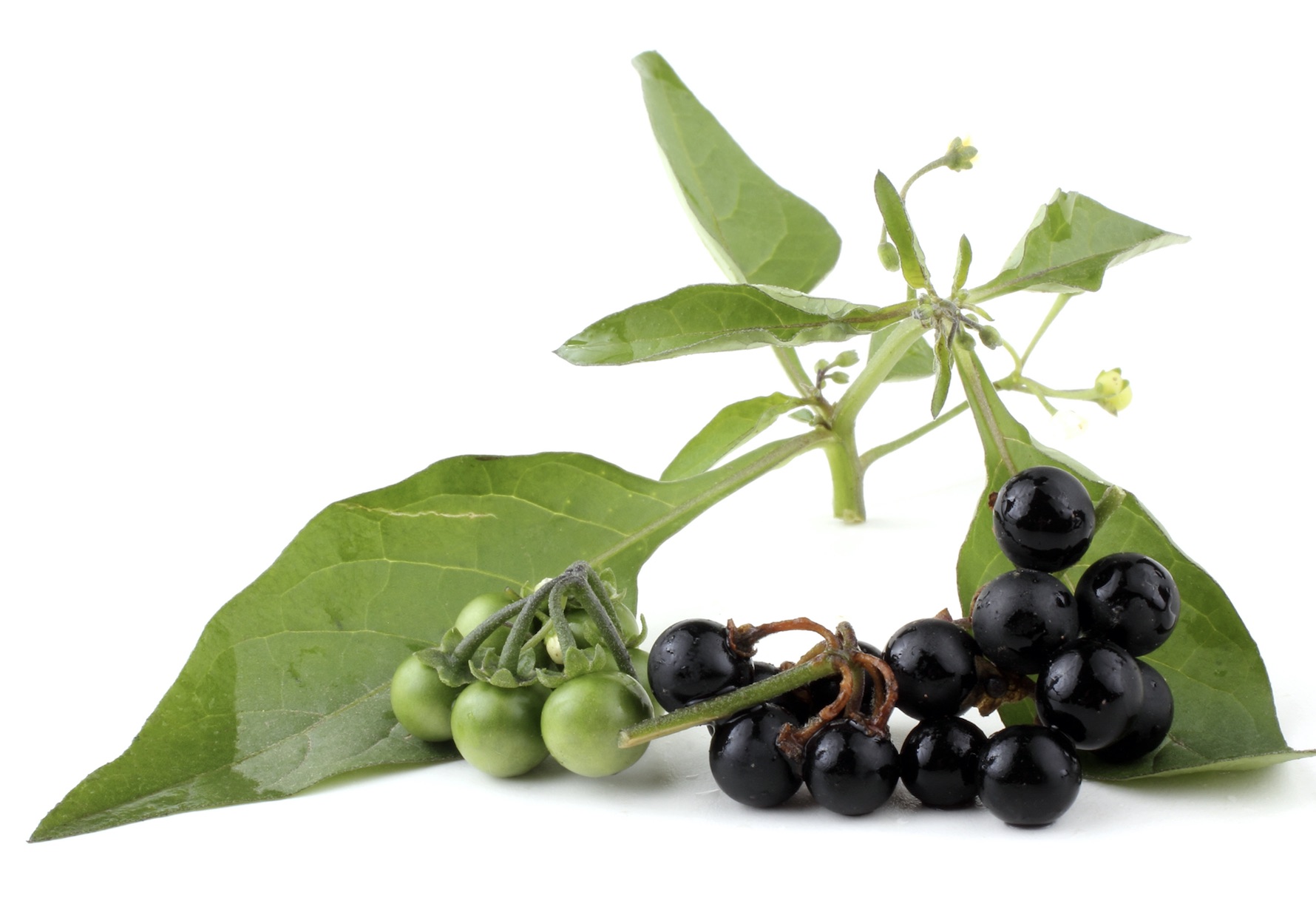 Toxic Weeds Differ
Nightshade (pictured above) has the appearance of a small green ball that, over time, turns black, ultimately resembling a blueberry. Because there is almost no discernible color difference between green nightshade and green produce, it is difficult for color sorters to detect. And when nightshade gets sliced on a processing line along with green beans or baby leaf spinach, it is also hard to differentiate by shape.
Datura (seen below) is also small and ball-shaped but stays green and has many small spikes. As well as being hidden from color sorters when mixed with green vegetables, this weed is not easy to identify by shape after it has been blanched with green beans because the process causes the loss of spikes.
Datura (seen below) is also small and ball-shaped but stays green and has many small spikes. As well as being hidden from color sorters when mixed with green vegetables, this weed is not easy to identify by shape after it has been blanched with green beans because the process causes the loss of spikes.
These various challenges mean that sorting-out nightshade and datura by color and shape is not always enough. Often it is also necessary to sort the objects passing down a processing line according to their biological characteristics — an advanced capability that has proven to be a game-changer.
Sorters Solve the Problem
Tomra Food has introduced this ground-breaking capability, revolutionizing the detection of toxic weeds in vegetables and fruit, as well as bringing unrivaled sorting capabilities to other food categories. The optical sorting and grading solutions specialist offers highly effective sorting solutions for every type of vegetable product, including IQF, fresh pack, fresh-cut and canned.
Although the primary purposes of optical sorters are to protect food safety and deliver consistent quality for end users, they also deliver many other advantages. The best sorters can grade to specification, increase removal efficiency, minimize false rejects, reduce the need for manual intervention, help solve labor scarcity problems, reduce line downtime, and provide valuable data about the sorted product. As a result, food waste gets reduced while yields and profits are enhanced.
The two sorting machines best suited to detecting and rejecting toxic weeds are the Tomra 5B and the Tomra 5C. Some processors deploy both of these machines on the same line: the Tomra 5B first, before the product is sliced or blanched; then the Tomra 5C, with Biometric Signature Identification (BSI) technology, to make final checks between the freezer tunnel and the packing station.
Tomra 5C with BSI+ for Frozen Products
In addition to efficiently detecting and rejecting nightshade and datura in IQF vegetables, the Tomra 5C premium optical sorter complements its detection work with ultra-low false-reject rates. Sorting accuracy is achieved by combining industry-leading sensors and high-resolution lasers with Tomra's Biometric Signature Identification (BSI and BSI+) technology,
With BSI, every object passing down the processing line is assessed for color and biological characteristics. By looking inside materials with next-generation spectral imaging, then comparing what's "seen" to information stored in a database, BSI clearly contrasts good and bad materials and can detect smaller defects than conventional spectral technology.
With AI machine learning, the Tomra 5C continually improves the accuracy of its defect detection. AI also empowers defect classification software, including a one-click button, so machine operators can set new sorting programs with a precision previously only attainable by service engineers.
Big-data analysis is made possible by connecting the Tomra 5C to the customer portal and cloud-based data platform Tomra Insight. By accessing live data from the sorter, operators can easily improve line efficiencies. And by accessing data retrospectively, it is possible to quantify the standards of raw materials from suppliers and to make better-informed business decisions.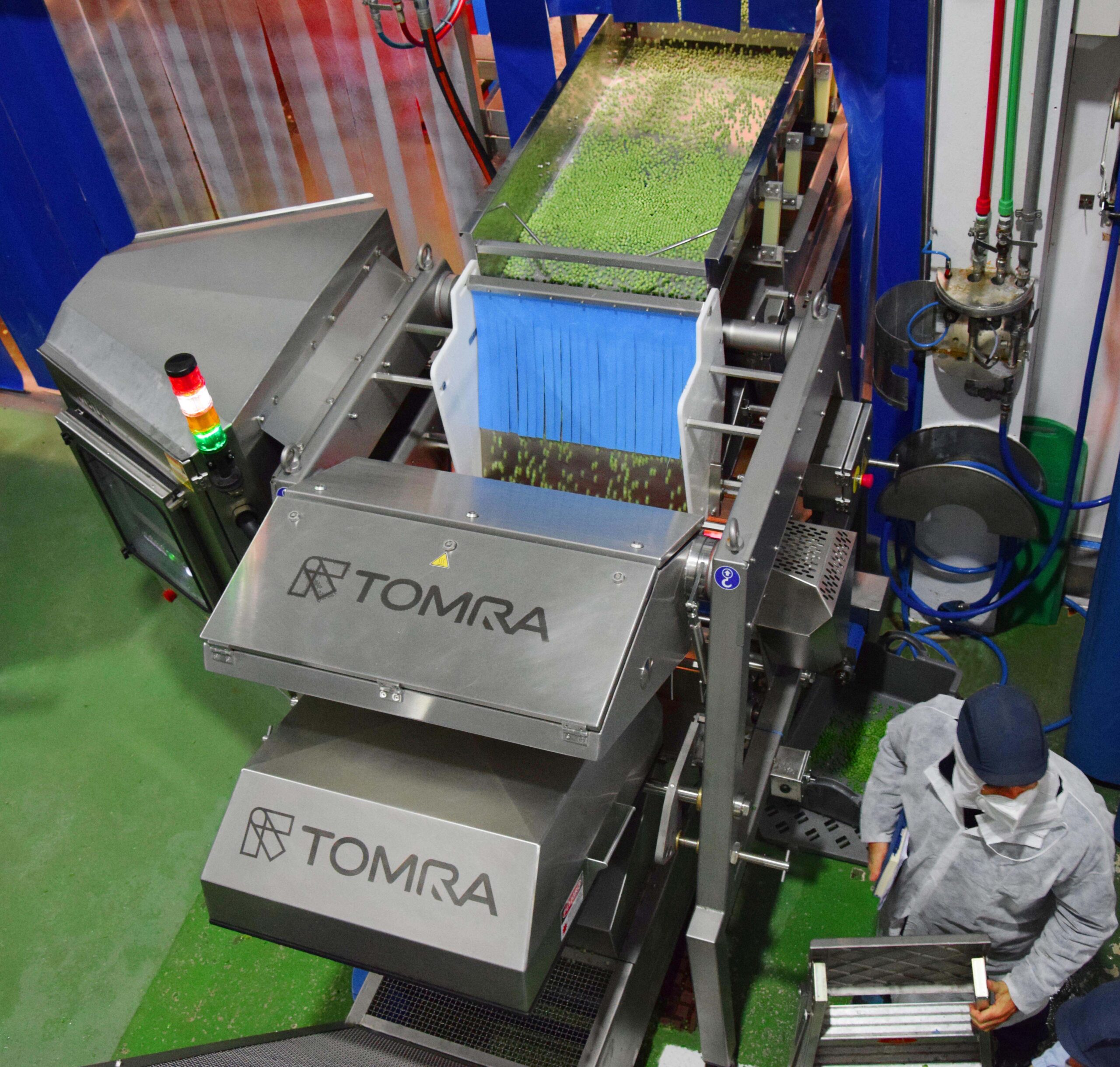 One of the biggest users of BSI+ technology is the Azagra, Navarra-Spain-headquartered Virto Group, a producer of quick-frozen vegetables with 15 specialty centers in 10 countries. Virto recently updated its main plant in Spain with eleven BSI+-equipped sorters. They are located on five single production lines and three double lines.
"Our main objective was to take a quantum leap in new technologies for foreign material sorting," said José Antonio Baldero, the company's technical manager. "Wanting to be able to offer even better product quality to our customers, the Tomra's BSI+ was opted for because we saw that it is more advanced than the competition's technology. With Tomra's technology, we have also been able to expand to other product specifications."
Francisco Casas, who is in charge of sorting at Virto, said the company was quickly impressed by the BSI+ technology because of its high performance, easily configurable programs, and low false rejection rates. "Our new Tomra units can do things that were complicated before we had them," he stated.