Newly launched thin-baked frozen pancakes from Rheine, Germany-headquartered apetito have two fillings: one fruity and one creamy. Both are ready to eat after two minutes of preparation in a microwave oven.
Dolce Vita combines an Italian pudding, Panna Cotta, with raspberries and Bourbon vanilla. Panna Cotta, which means "cooked cream" in Italian, consists of sweetened cream with a little gelatin.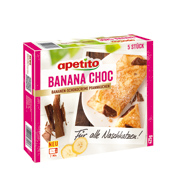 Banana Choc combines Belgian chocolate with a banana puree, and Blue Berry has a filling of handpicked wild blueberries.
In addition to producing frozen products sold at retail outlets throughout Germany and other countries, apetito is a leading provider of frozen meals to hospitals, care homes and local authorities. It operates in UK, the Netherlands, France and Canada, as well as in Germany.